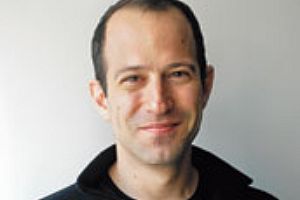 The book party for Daily Show producer Mike Rubens' first novel, The Sheriff of Yrnameer, released by Pantheon, was a family affair. The party was held on Tuesday evening, August 11, at Book Court, sacred ground for Brooklyn book junkies. Toddlers wearing outfits suspiciously similar to their bespectacled parents played tag by the food table, and infants wailed throughout the evening.
Parents helped themselves to wine from red party cups and nibbled on grape leaves, leaving the candy bowl to the kids. Hands were clapped over infants' mouths while Mr. Rubens, sporting a green button-down and blue jeans, read the prologue aloud. His mother and wife beamed proudly in the first row, where they reclined on a cracked leather couch.
Attendees very young and somewhat older laughed and clapped after Mr. Rubens finished his reading, which depicted a Wild West-esque good guys versus bad guys scene that happened to take place in warped outer space, settled with a weapon called a Firestick 24.
The Sheriff of Yrnameer was originally intended to be TV script, and was inspired by Mr. Rubens' observation that most sports stadiums have corporate names. What followed was the creation of an alternate universe, in which a hero named Cole with a broken-down spaceship must try to save the planet of Yrnameer, a garbling of "your name here." It is a planet waiting for a sponsor.
When asked whether he had been a die-hard sci-fi fan since his youth, Mr. Rubens explained that he actually, "read a lot more fantasy than sci-fi when I was younger. I was more into the swords and sorcery than the hard science stuff, which a lot of sci-fi fans might scoff at." Mr. Rubens combined the two styles for his novel: "I love that world of fantasy or sci-fi because there is a sort of cartoon-ish element: you can be anything you want. You can fly!"
Mr. Rubens' Comedy Central colleague Stephen Colbert had no qualms about naming genres. Mr. Colbert's blurb is stretched across the novel's back cover: "A science fiction book your grandmother will love—" it says, "if she's a lustful, violent lady." Mr. Rubens expressed his deep gratitude: "God bless Stephen Colbert! He's the funniest, most brilliant person I've ever met. I'm forever in his debt."
Next, Mr. Rubens plans on taking a break from make-believe planets and focus on something closer to home. He plans to write a novel about "the worst bar mitzvah ever."