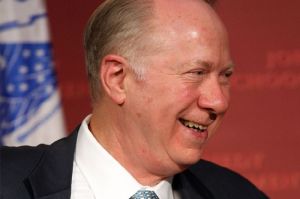 David Gergen is working on a book about the Obama administration, according to Alice Mayhew, his editor at Simon & Schuster.
Ms. Mayhew declined to go into detail about Mr. Gergen's project, but characterized it as as being about "watching an administration take hold."
"It's early days," Ms. Mayhew said by phone this afternoon. "He's writing about this administration and how it takes office, but he's writing from the perspective of Gergen, which is unique, I think, as he has worked in so many administrations on the inside."
UPDATE (6 p.m.) : Simon & Schuster publisher David Rosenthal clarified that Mr. Gergen's book will not deal with the Obama administration specifically, but will explore in general terms what happens when a new administration takes over the presidency.
"What Gergen is writing about is how any new administration gets rolling and assumes power," Mr. Rosenthal said. "It's much more of an historical perspective than an examination of the Obamas or any of the other administration he has worked for in particular. It's history, as opposed to current events."
A former advisor to Nixon, Ford, Reagan, and Clinton, Mr. Gergen has written only one other book, Eyewitness to Power, which was a memoiristic take on Washington culture that Simon & Schuster published in 2001. He has a background both in politics and in journalism, having spent the better part of a decade at U.S. News and World Report, two and a half of them as editor in chief. Mr. Gergen currently serves on the faculty of the Kennedy School of Government at Harvard, where he is a professor of public service and the director of the Center for Public Leadership.
Ms. Mayhew would not say how much access Mr. Gergen was getting within the White House nor whether he is interviewing the president himself.
"Needless to say, David is very connected, and he goes back with a lot of people a long way, and he has this perspective of having served in all those administrations on both sides of the political fence," she said. "So I think this book will have a depth and a perspective that will be singular."
Mr. Gergen is not the only journalist working on a book about Obama for Simon & Schuster. Newsweek's Jonathan Alter is writing one that will focus on the administration's first year or so in office, and David Maraniss is preparing a biography of the president. The Penguin Press, meanwhile, will be publishing a book on the administration by The New Yorker's Washington correspondent, Ryan Lizza.
Mr. Gergen is represented by Washington lawyer Robert Barnett, who has brokered book deals for a number of TV news correspondents as well as Barack Obama, George W. Bush, both Clintons, Karl Rove, Dick Cheney, and countless other D.C. heavyweights. Asked for comment on Mr. Gergen's book project in late July, when Mr. Gergen was spotted in the White House doing interviews, Mr. Barnett declined to comment. It is unclear whether Mr. Gergen has actually signed a contract with Simon & Schuster, but at the very least an informal agreement seems to be in place.
Mr. Gergen's special assistant at the Kennedy School, Nancy Howley, said Mr. Gergen is on vacation and cannot be reached.