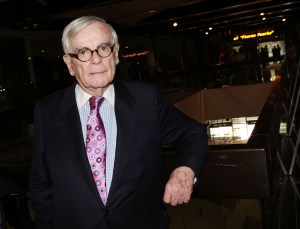 Writer and high-society fixture Dominick Dunne died on Wednesday. Aug. 26 in his home in Manhattan, it was announced by Griffin Dunne, one of his two sons. He was 83 years old.
The news was reported by fellow Park Avenue chronicler David Patrick Columbia and then confirmed on the Website of Vanity Fair, where Mr. Dunne was a contributor.
Mr. Dunne disclosed last year that he was battling bladder cancer and would undergo stem cell treatment.
The writer was known for enjoying the company of old Hollywood celebrities (he worked in the movie business in the 1960s and 70s before returning to New York and starting his second career) and New York's upper class. Mr. Dunne penned novels including The Two Mrs. Grenvilles (1985) and An Inconvenient Woman (1990), as well as non-fiction books, The Way We Lived Then: Recollections of a Well-known Name Dropper and Justice: Crimes, Trials, And Punishments.
Mr. Dunne also famously covered the trials of O.J. Simpson, William Kennedy Smith, Phil Spector and the Menendez brothers and later became the host of "Dominick Dunne's Power, Privilege and Justice" on CourtTV. Last year, Mr. Dunne traveled to Las Vegas against the advice of his doctors to attend Mr. Simpson's kidnapping and robbery trial. His reporting on sensational murder cases was often informed and influenced by the murder of his daughter Dominique, a 22-year-old actress, in 1982 by her ex-boyfriend, John Sweeney. He later wrote about this for Vanity Fair in a piece titled "Justice: A Father's Account of the Trial of His Daughter's Killer," published in 1984.
Mr. Dunne joined the magazine that same year as a contributing editor and was later named special correspondent in 1993. Tina Brown, then Vanity Fair's editor, gave the author his start at the magazine. Ms. Brown, who is now the editor-in-chief of the The Daily Beast, is out of the country this week, but emailed the Daily Transom in response to the author's passing.
"There was no one like him and it was one of the great blessings of my life as an editor that I was introduced to him within my first days in New York in 1983," she wrote. "He became the defining voice of Vanity Fair. He was the consummate chronicler of society's fallen angels and celebrity's dark places and yet his keen eye was always matched by the warmth of his voice, his understanding of loss and the fragility of reputation. I shall miss him more than I can say."
Vanity Fair's current editor-in-chief Graydon Carter, who the Daily Transom was told is also away on vacation, emailed the following: "Dominick was the International set's docent into the underbelly of high living. He was a guide, a moralist, and a masterful storyteller. Many have tried to do what he did so incredibly well—he made it look so easy after all—but nobody even came close."
In the Chicago Tribune, Liz Smith, a friend, wrote the day before Mr. Dunne's death:
"The writer Dominick Dunne returned from a trip to Germany for stem cells, etc., but he has been in Roosevelt Hospital since getting back. He says he doesn't feel too spry but I notice he has been receiving movie stars and VIPs in his room. He was to be moved to his apartment last Friday. We wish him all the best and are glad to report that his sons, Alex and Griffin are with him 100 percent."
Mr. Dunne had three children with his late wife Ellen (Lenny): Griffin, Alexander and daughter, Dominique. He was the brother of the late John Gregory Dunne and brother-in-law of author Joan Didion. Funeral arrangements have not yet been announced.