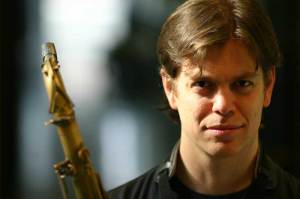 Donny McCaslin is a roof-raising tenor saxophonist. He uses the same effects that such tenor players have employed since the Swing Era: the rude honks at the bottom of his horn, the menacing middle register growls and the ecstatic squeals at the peak. If Illinois Jacquet, Lionel Hampton's famously exuberant tenor star, were still alive, he would recognize a kindred spirit.
But Mr. McCaslin is also a modernist. He likes to play swirling clusters of notes that turn the beat inside out. And he has a special affinity for the folk rhythms of Central and South America. When he solos over them, he often barks out percussive figures as if he is calling forth spirits on a drum. Jacquet surely played a rumba or two in his day, but he never did that.
Mr. McCaslin isn't quite at the level of his friend, Mark Turner, a more cerebral player who has redefined the instrument more than anybody in their generation. But when it comes to sheer muscularity, Mr. McCaslin, who turned 43 this week, has the field virtually to himself.
His only real competitor is Chris Potter, who plays the tenor like a flamethrower when he wants to make an especially heated musical point. Jazz promoters: If any of you would be willing to produce an old-fashioned Jazz at the Philharmonic tenor battle between these two players, The Observer would happily sell tickets and provide the audience with asbestos suits.
Declaration, Mr. McCaslin's eighth album and his most confident, arrived in stores this week. It bears some resemblance to Mr. McCaslin's last three outings. The producer is once again saxophonist-composer David Binney, who knows how to make a good record, as anyone can tell from listening to the ones he has made as a bandleader. Mr. McCaslin also enlisted his frequent co-conspirators—pianist Edward Simon, bassist Scott Colley, drummer Antonio Sanchez and guitarist Ben Monder—to accompany him in the studio. They give Declaration its thoroughly contemporary rhythmic feel.
But Declaration is a departure for Mr. McCaslin, who brings his band to the 55 Bar on Aug. 30. The saxophonist played like he was still trying to prove himself on his recent albums. He sounds much more relaxed on this one, as if he knows he's reached the point in his career—especially after his well-received solo work as a member of the Dave Douglas Quintet and the Maria Schneider Orchestra—where he has become a star tenor man himself.
Mr. McCaslin has written some nice tunes on Declaration and arranged parts on most of them for a five-piece brass section. But the writing isn't the focal point as it often was on the saxophonist's previous records. Here, it's his horn-playing that demands your attention.
The saxophonist, who never fails to thank God in his liner notes, testifies mightily on the gospel-influenced title cut. He and Mr. Monder take scotching solos on "Rock Me," a tune that begins as a fairly conventional funk tune and ends unexpectedly with a dreamy horn choral. It's always nice to hear him swing as hard as he does on "Uppercut." And his ballad playing on "Jeanina," dedicated to his mother, is exquisite.
Even so, at the end of Declaration, you long for the urgency of his early records. There are moments when it sounds like one of the records that the last generation of muscular tenor players, like Joe Lovano and the late Michael Brecker, made in the '90s after they'd become overconfident marquee names. If you were a reed player, you admired their virtuosity. But for the rest of us, it wasn't enough. That's why it was a relief when Mr. McCaslin came along with something fresher.
We hope he won't relax too much. That wouldn't serve him well in his musical cage match with Mr. Potter. O.K., maybe it will never happen. But wouldn't that be something?