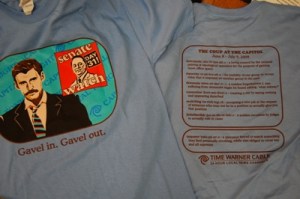 R.I.P. Don Hewitt.
Michael Bloomberg's appointees have "been in lockstep with the strategy of the pension systems," said Bill Thompson's campaign manager.
John Liu did not trash Bill Thompson. Neither did David Weprin. (So far).
Former representative Bob Barr says Michael Bloomberg's plan of flying homeless families to other cities without telling mayors there about it is "irresponsible and unethical."
The New Republic takes note of Josh Isay's "broad-mindedness."
Jason Horowitz's description of three top New York consultants makes Choire sad.
Mario Cuomo endorsed Bill de Blasio.
It's a snub of Mark Green, who Mario supported in 2001.
Public advocate candidates debate tonight.
Melinda Katz endorsed City Council candidates Jimmy van Bramer and Paul Vallone.
The Brawl for the Hall tweets.
Here's video of Christine Quinn's recent debate.
Gale Brewer and others push for paid sick days.
The Naked Cowboy visits the Board of Elections.
"The citizens of New York state are well served by Maloney in the House of Representatives and Gillibrand in the Senate," says the Queens Gazette.
Joel Klein and an unhired teacher exchange words.
Jay Golub versus Bart Haggerty, Round 43,815,239
"A bill without a public option won't pass the House," said Anthony Weiner.
Here's the Fox News spin on the Democrats' health care strategy.
Cable news tries being hip, and it's tragic.
And pictured above are Senate Coup-themed t-shirts, distributed in Albany by Capital News 9, complete with anchor Brian Taffe as Ron Burgundy, and a list of vocabulary words needed for any coup aficionados.