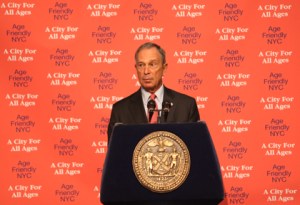 Guy Molinari has doubts about Rudy Giuliani's prospects.
Michael Tomasky says of Giuliani, "Did he run such a ridiculous presidential campaign that he effectively canceled out all that America's Mayor business? I think probably so."
Michael Bloomberg wants to help David Paterson instead of talk about Giuliani.
A mayor in France is furious at Bloomberg's policy of sending homeless people there without a heads-up.
Bloomberg wants to help seniors get cheaper taxi rides.
The major Democratic Party contributor arrested today, Hassan Nemazee, was also a Bloomberg supporter.
Bloomberg's new ad is about hot potatoes and transportation.
The mayor's news outlet won a lawsuit against the feds.
"It was a unique period in the city," Bloomberg told local reporters about the time he decided to extend term limits.
Paterson tried downplaying his comments about there being an "orchestrated" campaign to bring him down, motivated by racial bias.
Paterson is not distancing himself from his earlier criticism of the media, but rather, "I'm just correcting the interpretations of my remarks that are wrong."
Paterson has a fund-raiser on Friday.
Representative Paul Tonko has a health care town hall meeting tonight.
Leslie Crocker Snyder took money from a tobacco executive who also donated to Barack Obama, Hillary Clinton, and John Kerry.
Peter King loudly questioned Eric Holder.
One City Council candidate called another "a racist."