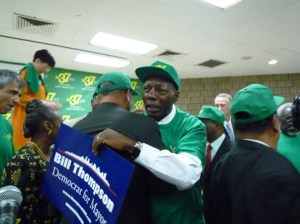 "New York's billionaire mayor, Michael Bloomberg, is stepping in where President Barack Obama fears to tread — confronting America's powerful gun lobby."
Joel Klein defends his boss.
Michael Bloomberg unveiled his plan for community colleges.
Julie Bolcer takes note of DC 37's endorsement of Bill Thompson.
The Wall Street Journal carries an AP story about the endorsement, calling it a "setaback" for Bloomberg.
The union says its members will offset Bloomberg's deep pockets.
Things have gotten tense between Bloomberg and labor unions, says this NBC report.
A reader wonders if Bloomberg's suggestion about DC 37 applies to its 2005 endorsement of him.
"[W]hen he's wrong he's very stubborn," Bill de Blasio said of Bloomberg.
Hugh Carey will be honored as a Citizen Laureate this fall.
Pedro Espada Jr. is no longer a party to the Ravitch case.
Bill Owens is "comfortable" with Don't Ask, Don't Tell.
Brian Mann says that Republicans in NY-23 are "unsettled" and, as such, "vulnerable for the first time."
There's controversy in Nassau County over red-light camera siting.
Here are some fund-raisers in Buffalo where you can protest tonight.
Brooklyn Eagle carries a strong headline about Representative Michael McMahon not wanting Governor David Paterson to stick around.
Everyone running for Eric Gioia's seat likes immigrants.
Helen Sears' campaign said she protested the smear attack on her openly-gay opponent before protesters criticized her silence on the issue.
Shirley Huntley won't say who offered her a deal in exchange for her vote on mayoral control.
"Regular people should be able to run in this city," Eric Gioia told The Trib (and Norman Siegel took public transport to their office).
Roberto Perez reposts his interview with Pedro Espada.
Janine Materna is raising funds on Staten Island tonight.
Jimmy van Bramer picks up the endorsement of Citizen Action.
Tea parties are a little like "Twitter in real life."
And this guy wants Bloomberg to run for governor.