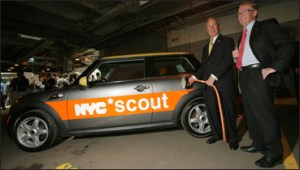 Dominic Carter wants an apology from David Paterson.
President Obama's spokesman said race probably isn't a factor in his boss' media coverage.
Dan Amira says Paterson's tactic (if that's what it was) didn't work out so well.
Bloomberg says Paterson shouldn't worry about polls.
Joe Mondello won't seek another term as chairman of the state Republican Party.
Dan Janison says Mondello's retirement coming just after his meeting with Rudy Giuliani is "loose, but might be valid."
Giuliani's people get behind one Mondello replacement, Henry Wojtaszek.
Ed Cox keeps up his campaign for the job, rolling out more support.
Eric Dinallo wants to run for Andrew Cuomo's job when Cuomo runs for governor.
Mike Freeman of CBS Sports argues that David Paterson should pardon Plaxico Burress, because "Jail should be for criminals, not stupid people."
Bloomberg is testing hybrid sanitation trucks.
Bloomberg is among the most generous philanthropists on the planet.
Joe Lieberman won't get a Baldwin challenge.
Public advocate and comptroller candidates are going to the Upper West Side on Wednesday.
And Rock Hackshaw makes promises.