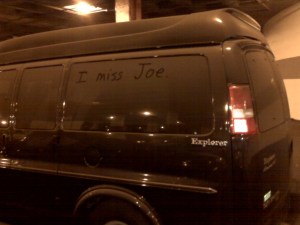 Jarrett Murphy thinks Bloomberg is right to compare himself to Robert Moses.
Urban Elephants has another metaphor in mind.
Bloomberg reaches for a handshake.
State Senator Tom Libous has prostate cancer.
The battle for Republican state chairman has a McCain-versus-Giuliani subtext.
State Senator Ruben Diaz Sr. also believes "death squads" are a problem.
It's Andrew Cuomo versus debt collectors in Syracuse.
Three-fourths of New Yorkers think the health care system is broken, but only 35 percent support a public option, a poll found.
Jerry Nadler gets heat from Republicans for his "fascist" remark.
Nadler makes a liberal blogger happy.
Anthony Weiner scored points against Joe Scarborough on the health care debate.
Weiner is a "key backer of real reform" says John Nichols of The Nation.
Rick Karlin looks at reforming public authorities.
"And just as John McCain voted with President Bush 90 percent of the time to implement his policies, Al Vann voted with Mayor Bloomberg to implement his."
A Queens resident in the comments section doesn't like a new park in Manhattan.
David Yassky and David Weprin have a lot of money.
Frank Lombardi covers "No-Show CM Maria Baez."
What's up with Christine Quinn?
Donkey Dem BK likes Brad Lander.
Good bye, David Rosasco.
Gary Ackerman endorsed Kevin Kim for Tony Avella's seat.
More students pass because the test is tougher, says an education expert.
Tom Scocca has a modest proposal for the media on the baseball steroids story.