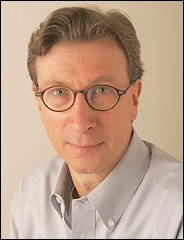 After 15 years on the sports desk at The Times, and some four decades of sports writing, columnist Harvey Araton is switching beats.
Starting today, Mr. Araton will join a newly created group of Times feature writers. Mr. Araton will be writing features for the Sunday real estate section, Sunday Styles, Real Estate, Sunday Business and A1. It's no surprise that the Times is starting up a group like this—with a de-emphasis on freelancers, the paper needs an in-house team devoted to thinking entirely about features.
We decided to give Mr. Araton a call and find out about his new gig (and his old one, too). He described his new assignment as a "break from sports," and said that his change in duties was directed by the masthead. We asked him to give us a look back on his multi-decade career covering sports in this city, and to muse on sports journalism in general.
So, what's the future of the general sports columnist?
"I don't know what the future is for the general sports columnist in the newspaper business," he said. "Everything seems to be moving to specialists. The notion of the erudite columnist sitting down and taking the time to think of something unique and different and provocative … well, the news cycles are moving too quickly. You can do it if you're a Web site. But if you're a paper, you have to reinvent it."
We asked Mr. Araton about his favorite moment as a columnist.
"The Daily News' Vic Zeigel always talked about Ali being that generation's seminal athlete and moment and person. The whole comeback and the exotic locales where he fought Frazier! That generation always talks about Ali with stars in their eyes. They say things like, 'We were privileged.' The one I'd have to pick—all the Bird-Magic finals, and I love basketball so much and I covered all those games in the '80s, the Jordan years, the Charles Smith getting blocked four times in the Garden—and the one I'll cherish the most was being The Times' basketball reporter and covering the initial Dream Team in '92."
The Dream Team encompassed all the things that Mr. Araton loved as a columnist—an international stage, globalization, the Olympics.
In fact, Mr. Araton is incredibly unusual in this way. Ask any sports journalist who's been in this town for the last few decades for their favorite moment and they'll rattle things off like the '86 World Series, the '94 Stanley Cup Finals, the '96 Yankees, the Red-Sox Yankees Series, any one of the Giants Super Bowls, the '69 Mets, Willis Reed, Joe Namath.
Not Mr. Araton. It's about the Olympics. It's about the Dream Team. Tonya Harding and Nancy Kerrigan. Boris Becker. John McEnroe. Bjorn Borg.
"I look at [those New York moments] more as a sports fan than a sports journalist," he said.
The great stories were the sort of tournaments and events for which few New York journalists could get a press pass.
Sort of like his last assignment as a Times sports journalist.
"[It] turned out to be this past Wimbledon and watching Federer break the record. That made up for the fact that I missed last year's match. When I was watching, I was thinking, if this is my last sports assignment, it's a great one to finish on.
The Times' sports desk wasn't always as strong as it has been more recently. When Mr. Araton switched from the Post to the News in the 1980s, The Times wanted to hire him and he hesitated.
"I would describe it best as slacking," he said, describing the sports section then. "Sort of like, not substantial. They seemed to have 2.5 pages a day or 3 pages tops. The editions were such that there was very little late stuff in the paper. By the same token, I was, especially after a few tabloid years, I became enamored with how Ira Berkow wrote about sports and how George Vecsey did it. By reading them, you learned that you don't have to scream at people. You don't have to pull by the collar. I was kind of attracted by that style."
He joined in 1991, and the Times sports desk became one of the best in the country.

Mr. Araton was born on the Lower East Side, raised in Brownsville and Staten Island. His first reporting gig came when he was 18 with the Staten Island Advance. He bounced in and out of college before graduating from CUNY in 1975.
He was childhood friends with Phil Mushnick, the grumpy TV writer for the New York Post, who asked him if he wanted to come and do night rewrite for the Post. Mr. Araton agreed immediately.
One of the things that turned his career around: Rupert Murdoch. After Mr. Murdoch bought the paper and turned it aggressively tabloid (edgier, more competitive, much like the Post and, well, the whole Internet is now!), streams of writers took off.
Mr. Araton slipped right in and took over as the Knicks beat reporter after getting a vote of confidence from Pete Vecsey, then—and now—the Hoops Du Jour columnist for the Post.
Mr. Araton moved over to the News in the '80s, then came to the Times in the early '90s, and became a columnist rather quickly thereafter.
We asked him if, after years and years, he had any fun anecdotes for us.
He gave us two, both covering the crazy Yankees of the late 1970s.
"I was on a Yankees road trip, and it was in the middle of a Reggie Jackson–Billy Martin wars," he said. "It was a road trip to Texas and Milwaukee and I needed something to create back-page news. It was '78 and it seemed like they were losing every day and falling into that big hole with the Red Sox. By the end of the week, they had lost five out of six. Martin was getting more belligerent by the day. By time Sunday rolled around, he was feuding with Reggie. So on Sunday, the last game before the All-Star Break, I got there late, which was a rookie mistake. When I got there, a press gathering was breaking up. Your instinct is to say I screwed up here. I was mortified! I knew I was going to be beaten and that the Post would get beaten. The reporters coming out of the locker room all had this buoyant look like they had gotten something. And since I was with the Post, no one was going to help me since we were the most scoop-minded paper. After the game, I got on the team bus and in those days we were riding with the team. I was in a seat and Lou Pinella plopped down in the seat next to me. I loved him, a player's player. And he starts to go off and, not loudly either, he says we're done, this is not our year, we're not playing ball, we have no energy, there's too much bullshit going with on this club and it doesn't look like we have a shot. And I said, 'Lou, can I write this?" And he said, 'Sure.'"
Paydirt!
"I'm thinking all right I got a scoop. We were a PM paper, so I got back to New York and started writing my exclusive, and it turned out that Pinella said pretty much the same shit to the writers before the game. Lou Pinella sat down next to me and he doesn't know me from Adam, and he kind of reiterated the stuff before the game, and it might have saved my career. It was an arbitrary act of good fortune."
And then! The lesson every sports writer has to go through.
"When I was with the Staten Island Advance, I was sent to Yankee stadium in 1976 after they reopened the stadium after the two years of renovation, and they sent me to cover the first game in '76. They played the Minnesota Twins, and I remember a lot of dignitaries and I remember seeing Mickey Mantle in the middle of the clubhouse. And I thought, 'This my chance to go say hello to Mickey Mantle'—this is a guy who goes back to childhood! He was sitting with his head down, and I was going to ask some question. And he looked up and he was so glassy-eyed and he clearly had a lot to drink the night before. He mumbled a few things to me. That was my first moment of disillusionment as a sports reporter."