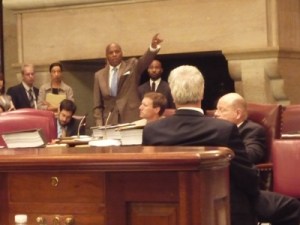 ALBANY—There were no major surprises, nothing was defeated, and the tweaked version of mayoral school control voted through the State Senate after two hours.
The main Assembly bill passed by a vote of 47 to 8; all four chapter amendments were approved by varying margins, with 15 senators opposing the creation of a "parent training academy." Senators Bill Perkins and Ruben Diaz Sr., two outspoken critics of the current system, voted against all five measures. ("Where's the beef? There's no beef. The mayor hasn't done a great job with the educational system," Diaz said on the floor, before offering to run the system himself. "Just give me $50,000, and I'll graduate more kids.")
Senator Daniel Squadron upstaged bill sponsor Frank Padavan by speaking first on the measure (causing audible grousing from some of Padavan's fellow Republicans), and said that the tweaks to the Panel for Educational Policy make it "a process for public input, for transparency" that "changes the dynamic between the chancellor and the communities, the department and the public at large." Padavan thanked Squadron for being "very, very articulate in giving a comprehensive outline of this bill."
Perkins said he voted against the chapter amendments—which were endorsed by city officials after a deal by Democratic Conference Leader John Sampson—because they come "in the context of mayoral control."
"If the numbers are so outstandingly good, why are there no parents clamoring to get into the school around the corner from where they live?" Perkins said, speaking against the Padavan-Squadron bill. "Why does The Times report that the gap between black kids, and white kids, and Latino kids is not shorter? With all of this extraordinary success?"
"We are obviously in the tale of two cities," Perkins said. He said that segregation of schools would continue under the system, saying mayoral control is "dividing our city on racial and class lines."
It's unclear whether the Assembly will take up or pass the chapter amendments passed by the Senate, but city officials have agreed to follow them ministerially, without legislative action. The dissenting votes came from Senators Perkins, Diaz, Huntley, Kevin Parker, Velmanette Montgomery, Eric Adams, Carl Kruger and Tom Duane.
Six Republican senators were excused. They are Senators John DeFrancisco, Kemp Hannon, Ken LaValle, Tom Libous, George Winner and Betty Little.
It was the last vote of the day. Some senators fled the chamber before the final tally was announced.
"Summer is upon us," Senator Neil Breslin said from the rostrum.