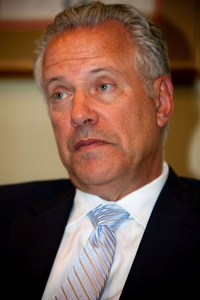 Well, so much for all that.
Matt Puleo, an accountant looking for an apartment in the East Village or Gramercy, said that only 5 percent of the places he's looked at recently have offered concessions. "In many instances, I have not noticed an appreciable decrease in rents," Mr. Puleo said. "I think a lot of landlords figure, 'We'll hold out.'"
Summer 2009 was supposed to be one of definitive change for Manhattan tenants. It began promising enough, with the Great Recession an albatross around the necks of skittish landlords, who, in turn, offered incentives and chopped rents to lure tenants, lest their apartments gape empty. Finally, the borough that saw record rent jumps during the boom was becoming more affordable.
At least, that was the conventional wisdom. The reality, one week before Labor Day, seems to be a Manhattan where apartment rents have stabilized—and landlords have shuttered the window on bold incentives. A month's free rent? Maybe. Two months? Never mind any more.
"[In January], that's where it kind of bottomed out, and it's been churning at that point," said Bruno Ricciotti, a principal at brokerage Bond New York. "There have been little ripples, but the general price point plateaued from that point on." Gary Jacob, who runs daily operations at one of New York's biggest luxury landlords, Glenwood Management, said as far back as June that the apartment market was already bottoming out.
Apartment rents in July, according to the Real Estate Group of New York's latest report, decreased annually but increased or stayed flat, in general, from June. One-bedrooms in non-doorman buildings—the apartment market's equivalent of the little black dress—still average over $2,500 monthly; studios, nearly $2,000; and two-bedrooms over $3,500.
Mr. Ricciotti, of Bond New York, said that his nearly 10-year-old firm hit a record volume this summer.
And all this against the typical backdrop of little new rental development; a relatively static supply, in other words, even with the rash of empty condo units.
Krystle Morrison—who works as a legal assistant in midtown but longs to teach in the city—said that she sees at least seven people at any apartment showing. "Everyone is looking right now," said Ms. Morrison, who wants an apartment below 70th Street.
This rise in demand, of course, was prompted in part by the falling rents—Miller Samuel and Douglas Elliman pegged average rents per square foot as having dropped 17.5 percent annually in the second quarter. Deals—and talk of deals—suddenly emerged in the spring like so much cool, running water. Cruelly, those tenants who didn't pounce then, when Lehman's collapse was still a fresh reality, are seemingly done in by the market's weakness now.
"As the inventory shrinks, the incentives are shrinking little by little," said broker Karin Barsegyan, who manages Urban Sanctuary's downtown office. "When [landlords] were giving away months of free rent, now they're giving only two months of free rent."
Rents are expected to fall another 5 to 10 percent in the autumn, according to market analysts, a seasonal reality not necessarily tied to the larger economy. Daniel Baum, the Real Estate Group's COO, said that although some graduates are starting their jobs in the fall—later than usual—that volume won't be enough to offset the seasonal decline.
And unemployment in the city is expected to remain high. Already at 9.6 percent, the local unemployment rate could rise through the end of 2009. "If the economy continues to remain weak in terms of elevated unemployment, we expect the rental market to follow suit," said Jonathan Miller, CEO and president of Miller Samuel.
As the economy improves, however, and unemployment peaks, rents, already stabilizing, should start to rise again in Manhattan. Sorry. You might have missed it.
bkavoussi@observer.com