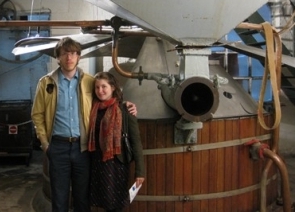 Erica Shea was on the Chinatown bus from Boston to New York after Thanksgiving in 2008, reading Burkhard Bilger's profile of Sam Calagione, the wort-crusted owner of Dogfish Head Craft Brewery, in The New Yorker's food issue. She texted her boyfriend, Stephen Valand, who was visiting relatives in Bay Ridge, Brooklyn: "We have to do this."
Within five months, the couple were in Oslo, Norway, the first stop in their 15-country, seven-week backpacking, CouchSurfing.com European tour. They were searching for beer recipes and ideas that would ferment into the July 4, 2009, opening of the Brooklyn Brew Shop, a retail business of brewing supplies and recipes that enables Brooklyn's growing craft-beer fetish in all of its forms, from purism to absurdism.
Mr. Valand, 23, and Ms. Shea, 25, aren't alone in exhibiting the fiscal moxy that has seized various New Yorkers in this Great Recession: the guts to slough off day jobs—Mr. Valand worked in commercial production, Ms. Shea still does some marketing on the side—and start a business when signs point to "no," and a retail business at that.
But then many of the consumer trends that preceded the recession seem made for one. The Brooklyn Brew Shop certainly fits in well with the do-it-yourself food movement: slow food and organic produce, reusable canvas bags at the Park Slope Co-op and herb gardens in pots on the stoop, the feral desire to place your belly at the mercies of your own ability to scavenge for food and drink.
And to take it languidly; and to enjoy it.
"The nice thing about being there," Mr. Valand said of Europe, "was realizing that not everyone works all the time. And not everyone needs to get or buy anything they want at any hour of the day." Brewing, start to finish, takes a few hours—and then a few weeks of waiting on fermentation and aging. "It helps everyone relax a bit."
But their particular brand of beer enthusiasm also embraces the national, maybe international, movement—for lack of a better term, as it's not particularly organized and, almost by definition, doesn't move in lockstep—pioneered by the likes of Mr. Calagione at Dogfish that says beer doesn't have to fit a particular barley-hops-yeast rubric. It can be what you can imagine it to be.
Like Grapefruit Honey Ale, the Brooklyn Brew Shop's best seller right now. Or a beer that tastes like peach cobbler; or chocolate and maple; or lobster; or, what the hell—change we can believe in!—beer that tastes like s'mores, the graham-cracker–melted-marshmallow amalgam you may remember from summer camp.
These recipes are hatched and alchemized in the more spacious Prospect Heights apartment of Mr. Valand—'My apartment fits nothing,' said Ms. Shea of her Lower East Side place.
Neither was a particular connoisseur before they started brewing.