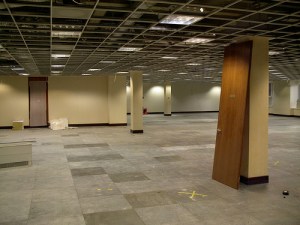 Should a businesswoman faced with declining revenue, an uncertain future, and enough vacant office space to host a U2 concert decide to put said empty space on the market, she's bound to encounter a nasty truth: There's stiff competition out there, a lot of it from Goldman Sachs.
"There's actually more sublease space on the market than during the last downturn," said Jones Lang LaSalle vice president James Delmonte, referring to the 2001-2004 recession. "There's more direct space as well."
To wit: New York City's supply of sublease space has mushroomed a preposterous 139.2 percent since the second quarter of 2007, from 7,141,426 square feet to 17,083,224 square feet. During the height of the last recession, sublease space peaked at the much lower quantity of 14,366,608 square feet.
By way of comparison—though, really, what American city's office market can really compare to New York's?—Washington's sublease supply has grown 84.2 percent in the same time period; Los Angeles', 70.1 percent; Chicago's, 37.6 percent.
Most of New York City's sublease space is coming from the devastated financial sector. The No. 1 source of sublease space—citywide and nationwide—is Goldman Sachs, with 597,000 square feet available at 77 Water Street. No 2: Barclays (Lehman Brothers), which has 456,842 square feet available at 277 Park Avenue.
Perhaps needless to say, the surfeit of sublease space has sent rents marketwide plummeting.
"When there's more sublease space on the market, there's more pressure on landlords to be competitive," Mr. Delmonte said.
In the third quarter of 2008, the average rent for a square foot of space in Manhattan was $73.14. In the second quarter of 2009: $59.36.
drubinstein@observer.com