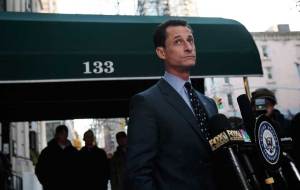 On Sunday, Aug. 9, Anthony Weiner waded into one of this year's most contentious City Council primaries by endorsing Bob Zuckerman for the 39th District in Park Slope at Dizzy's Diner on Eighth Avenue.
For the outspoken 45-year-old congressman and one-and-a-half-time mayoral candidate, who grew up a few blocks away from the site of the event, the endorsement didn't have much of an obvious political benefit. Mr. Weiner described it as payback for someone he said was instrumental in helping him learn about issues in the neighborhood during his 2005 mayoral race.
Mr. Zuckerman, 48, who hopes to become Brooklyn's first openly gay elected official, is treating Mr. Weiner's endorsement as the biggest news in the race so far.
"We all love you," Mr. Zuckerman's mom said to Mr. Weiner as they stood with supporters outside Dizzy's Diner on Ninth Street.
"I'm a big fan of your son," Mr. Weiner said, before jokingly issuing her a warning about the "special visa requirement for New Jersey residents" to enter the city.
"Now, I can't vouch for him as far back as his mom can," Mr. Weiner said to a couple of reporters, "but I can tell you that if you give Bob Zuckerman a chance to represent these communities in the City Council, he will get up every single day thinking about what makes this community go, work every single day to make this community even better and won't lay his head down at night until he's done everything he can. And then he's going to get up and start just the same way the next day."
"We may look different but we have some things in common," Mr. Zuckerman said in return.
(Mr. Zuckerman has thinning curly hair and a slight paunch. Mr. Weiner, who plays hockey in his spare time, is rail-thin, despite professed efforts to bulk up.)
"First, when you ran for City Council in 1991, you were not the candidate of the establishment, and neither am I," Mr. Zuckerman said. "Now, also, when you got elected in that race, you made history because at that time, you were the youngest person ever to get elected in the City Council. When I get elected, first in September in the primary and then in November, I will be the first openly LGBT legislator ever elected. So, you made history and I'm going to make history."