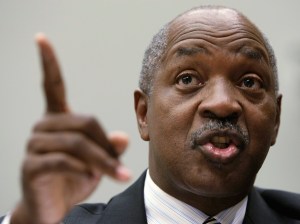 Harvard Law School professor Charles Ogletree is looking to write a book centered on what happened when his client, friend, and colleague Henry Louis "Skip" Gates, Jr. was arrested in his home on charges of disorderly conduct last month, an incident that turned the nation's attention to the issue of racial profiling. Several sources confirmed that Mr. Ogletree has a book proposal out to a number of the major New York publishers, and is being repped by Boston lawyer John Taylor "Ike" Williams.
Mr. Ogletree, who is the founder of the Charles Hamilton Houston Institute for Race and Justice at Harvard Law School, served as Mr. Gates' legal representative in the aftermath of the arrest, and issued an account of Mr. Gates' side of the story the day before the disorderly conduct charges were dropped. He has written and edited a number of books for academic presses, as well as one on Brown v. Board of Education for Norton in 2004.
The fact that Mr. Ogletree has a proposal out on this subject suggests pretty strongly that Mr. Gates himself, the director of the W. E. B. Du Bois Institute for African and African American Research at Harvard, does not currently have plans to write his own book on it. This is befuddling, especially because after the arrest Mr. Gates indicated in interviews that he intends to put racial profiling at the center of his future academic work. "I am going to devote my considerable resources, intellectual and otherwise, to making sure this doesn't happen again," he said in an interview with TheRoot.com. "I'm thinking about making a documentary film about racial profiling, and I'm in talks with PBS about that."
Of course, there's no certainty that Mr. Ogletree's book project would preclude Mr. Gates from taking one on, especially because the exact nature of the work Mr. Ogletree means to produce is unknown. But several publishing executives agreed that it would be rather unusual for a client and his lawyer to both be writing books on the same subject.
Neither Mr. Gates nor his literary agent, Tina Bennett at Janklow & Nesbit, have responded to repeated requests for comment since the professor's arrest. Neither Mr. Ogletree nor Mr. Williams could be reached for comment this week.