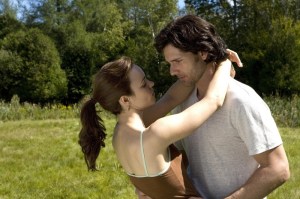 It certainly didn't take long for ABC entertainment president Stephen McPherson to fill the void left by Ben Silverman in the "what is he thinking?" department. Case in point: The news earlier this week that ABC is teaming with Friends creator Marta Kauffman for an adaptation of The Time Traveler's Wife. On the surface, this seems like a good idea, especially in light of the feature film version of Audrey Niffenegger's novel grossing over $21 million thus far at the box office. The only problem? Apparently everyone at ABC forgot that NBC tried doing their own twist on The Time Traveler's Wife already, with the similarly themed (and long-canceled) series Journeyman. (In Mr. McPherson's defense, the novel did come first and, supposedly, The Time Traveler's Wife has been in the works at the network for a while.) This bit of hilarity comes on the heels of ABC's latest roster of new shows for the fall, which include a Lost rip-off (Flash Forward), a remake (V), and new comedy series' like Hank (with Kelsey Grammer) and The Middle (with Patricia Heaton). Looks like someone is out of ideas! But fear not, Mr. McPherson: We've come up with four potential new shows to help save your third place network.
Missing
Our pitch: It's about a group of interconnected "strangers" (played by a United Nations–like group of actors, fronted by James Van Der Beek) on a flight from Australia to Los Angeles that crash-lands on a mysterious island. Expect time travel, red herrings and polar bears.
Steve McPherson's possible response: "This sounds like Lost, but different! Sold!"
One Day
Our pitch: A special agent (Jason Patric) at a government agency has 24 hours to thwart a terrorist attack against America using any means necessary (read: torture!). As an added bonus, the show will run in "real time."
Steve McPherson's possible response: "Why hasn't anyone else thought of this?"
Stunted Expansion
Our pitch: A single camera comedy revolving around the wacky antics of the Bloom family, a rogue's gallery featuring an everyman dad, his awkward son, boozing mother, incarcerated father and magician brother, among others. Henry Winkler will do the voice-over narration.
Steve McPherson's possible response: "We can pair this with The Middle!"
Studio 60 on the Sunset Strip
Our pitch: From Aaron Sorkin comes a behind-the-scenes look at a late-night sketch comedy show. Matthew Perry and Bradley Whitford co-star.
Steve McPherson's possible response: "This is gonna be the biggest hit EVER!"