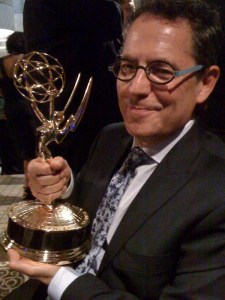 In 1969, when he was 14 years old, Jerry Levitan sauntered past a row of reporters lined outside John Lennon's Toronto hotel room, knocked on the door, and convinced his favorite Beatle to give him a short interview. Mr. Lennon was about to swaddle himself in bedsheets and conduct his Montreal Bed-In for Peace with Yoko, and the press was eager for him to settle rumors about a possible Beatles break-up and make a public comment about the Vietnam War.
In his 40-minute interview with Mr. Levitan, Mr. Lennon said peace was in the hands of the people and they had the power to overturn government warmongering. Mr. Levitan recorded the conversation on an old reel-to-reel tape machine and showed it off to friends at school and the local news station. But he mostly kept it to himself.
Over the years, Hollywood agents have been hounding him to make a movie or sell the rights to his photos and recordings. Mr. Levitan, now 55, finally decided to publish a book, I Met the Walrus: How One Day With John Lennon Changed My Life Forever, out this past May from Collins Design. In the back of the book, he includes a DVD of a five-minute, animated short he created with animator Josh Raskin. It was posted on YouTube in 2007.
On Aug. 29th, at the 36th Annual Creative Arts Emmy Awards, Jerry Levitan got an award for I Met the Walrus, the web short that has been in the works for four decades. It won the "New Approaches- Daytime" category, and was up against the "All My Children" video podcast, the New York Times Style Magazine screen tests, an Web site called Tac.TV and Web show Imaginary Bitches. The short was nominated for a 2008 Academy Award and won Best Animation at the Manhattan Short Film Festival, but the Emmy is one of Mr. Levitan's most prestigious honors yet.
Mr. Levitan was on the phone from sunny Los Angeles. "It was bizarre," he said about the win. "Because when I saw the nominations we were up against–the New York Times and All My Children--I couldn't believe it."
But the film's message of peace during times of war and the current wave of Beatles mania sweeping the media gave the film a boost.
Mr. Levitan told the Observer that he locked up the materials for so long because he didn't want to exploit the experience. "I never wanted to do anything that was either cheesy or minimized the event or commercialized the events. I just got this crazy idea–I was sort of sick of people asking me about it. So I thought I'd make something that would be good for kids and grandkids and do something whacky."
"The thing is, there's never been anything like The Beatles and it's hard to explain to this generation or even generations before that The Beatles weren't just a rock band," Mr. Levitan continued. "They had influences politically and socially and cultrally that went beyond strutting on stage and putting out fancy records. John Lennon himself was an extremely intuitive person–he himself connected with people on so many different levels, it wasn't all about the music."
So Mr. Levitan, who has recorded several children's music albums as Sir Jerry, worked with Mr. Raskin on the animated short, which includes pen work by James Braithwaite and digital illustration by Alex Kurina.
Don't expect a Pixar-like romp–but rather a reflective work of art, with its mild sepia tones, fast-paced illustrations and pop-up typography. "It's not really a cartoon, I just wanted to do something artistic, something with this generation's take on it," Mr. Levitan explained, "something that I thought John would love."
He let Ms. Ono know what he was doing all along–with the book and the film. She congratulated him after his win. "You hear all these stories about her being difficult," he said. "She has been unbelievably accessible to me and supportive of me."
And so was Mr. Lennon it seemed, which is partially what makes the event so powerful, in this modern age of celebrity where stars hire Twitter ghost writers to shmooze with their fans. "He was the biggest star in the world–and even though he was under enormous pressure professionally and personally, he chose to spend a day with a kid who was amazed by him."
"He gave me quality time. He respected me. He was kind to me, who does that? That story in itself is what's propelling this around the world."
More from Gillian Reagan:
The Blonde Ambition of Blip.tv