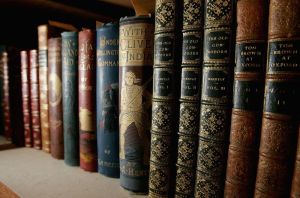 For this week's paper, Pub Crawl interviewed a number of publishing people who started their careers in magazines, and got them talking about what they expected when they got into books and what surprised them once they got there. One of the people we spoke to was Barbara Jones, the former deputy editor of More magazine, who has been working at Disney Hyperion since the spring of 2008. Ms. Jones had a long career in magazines before she was recruited by Hyperion publisher Ellen Archer, having worked not only at More but also Harper's, Vogue, Organic Style, and Real Simple. She is currently the editorial director of Hyperion and its women's literature imprint, Voice.
In the following Q&A, which has been edited for clarity, Ms. Jones talks about her easy adjustment from magazines to books, and discusses the ways in which she embodies the change currently rocking the book business.
Do you feel like you're still getting used to the book world at this point or have you pretty much settled in?
I'm settling in. I liked it, and it seemed to suit me right away.
What moved you to make this transition in the first place?
Actually, Ellen Archer called me. I hadn't thought of it, and the reaction of colleagues in magazine publishing was, 'Ah! That makes sense.' I don't think it's necessarily a transition for everyone, but I was always involved with books. It was my great love and people knew that.
What did you expect going in? Were there certain skills or habits you'd developed in your first act that you suspected wouldn't hold up in your second?
Well, the primary skill, which is editing text, is transferable, so. There wasn't anything that wasn't transferable, really: editing, reading, working with writers, working with agents. The skills that I had were very transferable.
Did anything surprise you?
The thing that surprised me was that everybody in book publishing reads books. That should seem obvious, but … everyone in magazines does not read books. I read books, and people would talk to me about books. But … in your sales force, in your publicity department, in your marketing department—in magazines their primary love is not books. In book publishing, I found myself in a land of my people. I joked to my friends that the maintenance men read a lot. I don't really know whether that's true or not, but …
One thing I've heard from other people is that they didn't realize the extent to which editing is just one part of what you do when you're in book publishing—that in many ways it's actually a sales job.
I had come from women's magazines, where I did a lot of dealmaking. I booked covers. When you're booking a cover, that's a marketing tool for the magazine, and I brought that skill with me. For Voice, which is a mission-driven imprint, which is really quite unusual in book publishing, starting last summer I looked around and tried to find partnerships that could help support our books. We have a partnership … for Candace Bushnell's books with Meredith Corporation, which publishes More magazine, and Maybelline cosmetics. We've gotten a lot of promotional support from them, and what we gave in return was content.
So the sales aspect of the job wasn't really new to you.
How to sell books was something that actually was always driving me. I think it might be idiosyncratic—it might not be something that's happening to everyone who makes this transition—but think about it: I was always the person who wanted to sell books through publicizing them in magazines. I ran into an editor at another house who said, 'Oh, Barbara, I was always looking to what you could do for my books, and now you're my competitor!' So, that's my inner mission: I want to sell books. That's what gives me a thrill.
The other thing I would mention that was a transferable skill is that when you're in magazines you are really cognizant of the environment into which you're delivering your content and, you know, of the zeitgeist. And it's a time of huge change and transformation. … It's not that I don't love the traditional book, but it's a time of transition and change, and Hyperion is a really innovative house. I mean, the fact that Ellen reached out and found someone from magazines to come in was an innovation in itself.
Can you think of any mistakes you made early on?
I'm sure I've made so many mistakes, and I wish I could think of them. I mean, I am the wind of change. I represent change in the book industry. I do. Again, it's not for everyone. Because I really love books—that's what I want to see survive. And I'm in this very nimble, interesting, small publishing house connected to a large media company—the largest media company at the moment, actually—and so it's the perfect place for me. In terms of troubles, all I can say is, my colleagues who have been in book publishing forever have been so patient and kind. I mean, I represent something they don't necessarily want to see– which is, it's going to be on your iPhone. It's going to be on your Kindle. We have to be flexible. And I get in meetings and I say that. Like, I'm a bull in a china shop! You don't really want all bulls, you know what I mean? I'm a bull that actually likes the china.