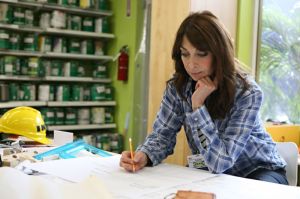 Last week, Illeana Douglas had just finished shooting the second season of Easy to Assemble, the Web series she wrote, produced and also starred in as an IKEA worker attempting to escape showbiz in a bright yellow smock. So before she had even seen the final cuts of the IKEA-sponsored show, the 44-year-old actress hopped on a red-eye flight to the East Coast, arriving during last weekend's torrential downpours, for a three week vacation at her quiet second home in Connecticut. On Monday, Aug. 3, she slept in.
"I feel so out of it, it's the country, you know?" she said, gliding into an Italian bistro near Union Square after an afternoon train ride from the 'burbs. "I just rolled out of bed so late and my mother," who lives next door in Connecticut, "said, 'Don't you have to go to New York?'" She was dressed in a feminine, bohemian-style purple frock; a pile of vintage gold necklaces with chunky charms hung around her neck. She ordered a coffee before explaining how Easy to Assemble, the Web show networks wished they had made, came together.
The IKEA-backed show first premiered last year on CBS's TV.com (YouTube and tons of other Web platforms came later) with funny dialouge, quality production and a hilarious cast of Ms. Douglas's A-list, B actor friends, including Justine Bateman, who hosts a talk show called 40 and Bitter inside the store, and Ed Begley Jr., who leads an Actors Anonymous group (mantra: "I'm an actor, and I'm anonymous"). Craig Bierko lives in the Burbank location. In an episode, he stumbles out of a closet, pantless, and Ms. Douglas asks him, "What happened to the Fox show, what was it called?" "Unhitched," he replies. "Unwatched. A real surprise, huh?" Ms. Douglas' writing offered a wry jab at the sad state of Hollywood and how actors shunned by movie studios and network television were still trying finding ways to be creative—even in an IKEA store.
"It was like living theater, and that was the whole theme of the show: Art is where you make it," Ms. Douglas explained to the Observer. "For me, it's really a statement. It doesn't matter if you're in a movie or you're in a TV show—you can place a good story anywhere and people and things are changing and people will find that story."
The second season, which Ms. Douglas said will premiere some time during the first week in October, adds cast members Cheri Oteri, Ricki Lake and Tim Meadows. There's also (spoiler alert!) a new theme: "co-worker of the year." Ms. Douglas competes against Ms. Bateman as if they are political candidates. She dreams up team-building programs (which turn out to be more like speed dating) and even invents her own IKEA product (a Swedish meatball dispenser inspired by the Guggenheim).
"This year is like the year of the worker, with the way that unemployment is," she said. "I want to make it like an Extras or The Office for IKEA. I've always been fascinated by the life of a worker, and there hasn't been a good show—like a Laverne and Shirley—for years. I've pitched them to networks, but they always turn me down."
Ms. Douglas said IKEA's head of marketing approves her proposed plot lines and story ideas, but mostly lets her do whatever she wants to do on the show—even make a little fun of Swedish culture and the brand's quirky philosophies and practices.
In the second season's first scene, Ms. Douglas appears with Tom Arnold in a post-coital mess after shooting a publicity-mongering sex video. IKEA didn't blink. Their only note was to keep it "family friendly."
"They've pushed me to make the content better," she said. "They've said to me, 'And of course, you're going to have another dance number, right?' And I'm like, 'Sure, O.K.!'"
Ms. Douglas' IKEA-inspired band, Sparhusen, wrote music for the series and even performed at this year's SXSW in Austin, Texas. She's writing a new project, a kind of VH1 Behind the Music feature, in which she'll co-star with Keanu Reeves as members of an obscure Swedish pop group. She's considering several spinoff Web shows, along with the third season of Easy to Assemble, all under the IKEA umbrella—as if the furniture maker is her own production studio.
"Everyone I know is looking to work with a brand," she said.
Ms. Douglas said she has had the idea to work directly with a sponsor for more than a decade, watching studio movie budgets shrink and seeing network TV shows and even independent film, where she made a name for herself in movies like To Die For and Ghost World, shut out actors for vapid reality programming and plot lines geared toward a male-only audience.
She wrote Supermarket of the Stars, a precursor to Easy to Assemble—and the show gained traction on YouTube in 2006. It stuck out as quality programming among the site's sea of low-quality, dogs-on-skateboards type fare at the time. IKEA signed on in February 2008 to recreate the show under the brand's marquee.
"Because we were at the beginning [of branded Web show entertainment], IKEA just gave me free reign to come up with whatever I wanted to come up with," Ms. Douglas said.
She hopes to keep working for IKEA and maybe even get involved with other brands to make original content, but she hasn't found the right relationship just yet.
"I've met with other brands since then that don't quite have it going on like IKEA does," she said. "IKEA and me, I agree a lot with their philosophies." Sometimes, it even feels lke she and her IKEA marketing contact have the same brain, she added. "So that's why it became a perfect fit."
Ms. Douglas makes it seem easy.