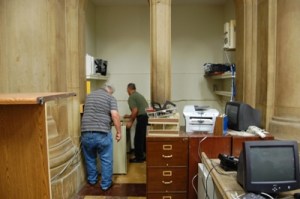 ALBANY—The LCA Press Room on the Capitol's third floor is filled now with movers and telecomm technicians as some of the news organizations here shuffle around.
The Daily News is moving out of the small, open-topped cube in the center of the press room that it has occupied since (best as anyone can remember) the early 1970s. They're going into a corner to accommodate the presence of Glenn Blain and Liz Benjamin, who currently has to work in the office with her laptop actually on her lap. Bureau chief Ken Lovett and columnist Bill Hammond will also be out in the open.
The LCA voted last week to allow Susan Arbetter, who is moving to WCNY, to take over the cube and transform it into a broadcast studio. Arbetter said she will hopefully get things in motion next month.
I've been in that corner since November, and am moving across the room near the back door. There was an old Remington typewriter on the shelf that is both too heavy and cool to move. I'm hoping to add a string of white holiday lights around the archway above my desk. Eventually.
I took a desk that was occupied by Karen DeWitt, whose reports air on public radio stations around the state. She'll be moving upstairs to "the shelf" to occupy a desk vacated when the Watertown Daily Times retrenched earlier this year.