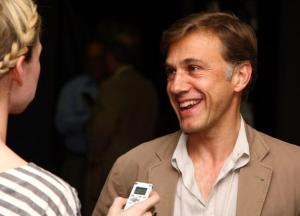 At 6:30 p.m. on Aug. 18, the Transom waited patiently at Third Avenue between 59th and 60th streets for the 40 or so boldface names who'd been promised at a screening of Quentin Tarantino's latest movie, Inglourious Basterds arranged by publicist Peggy Siegal. By 7 p.m., we'd spotted only three: actors Gael Garcia Bernal, Amy Irving and Christophe Waltz, who plays a less-than-pleasant Nazi colonel in the movie. Harvey Weinstein somehow slipped through the press line unnoticed. (As did starlets Gretchen Mol and Famke Janssen, who weren't on the original tipsheet.)
Ms. Irving spoke to no one, and Mr. Bernal to one reporter before going inside, so it fell to Mr. Waltz to supply bon mots to the Transom.'When there is a great star, a great director and a great script, how can you say no!' he said. 'All great art is trying to say something about humanity and this is great art." Danke schoen!
The previous night, Mr. Tarantino, stars Diane Kruger and Eli Roth, and many others all managed to make it to Andrew Saffir's Cinema Society screening.
So did Mr. Saffir simply win?
No, said a rep from Ms. Siegal's office. "It was more of a media screening," she wrote afterward in an email, pointing out that notables like Newsweek editor Jon Meacham, Town and Country editor Pamela Fiori and mogul Mort Zuckerman also attended.
As there was ample room for extra guests in the theater, the Transom took the opportunity to preview the movie. We were not disappointed! Mr. Tarantino served up brutal violence alongside great one-liners, making for a movie that is viciously funny and boyishly entertaining, albeit blood-soaked.
P.S. Ms. Siegal contacted the Transom soon after this item was posted to state that there was "absolutely no competition" between her and Mr. Saffir , whose event, she said, was the "sponsored premiere." She pointed out that her company had also arranged a private VIP screening of Sunday, August 16th in the Hamptons hosted by David Linde, president of Universal Pictures and Mr. Weinstein, and re-emphaiszed that the Tuesday, August 18th event was specifically for media elite and friends. "Everybody worked together for the success of the film," Ms. Siegal said.