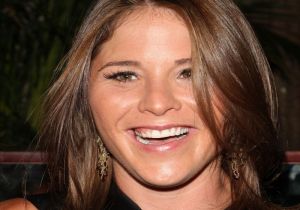 NBC News executives announced today that Jenna Bush Hager, the daughter of former President George W. Bush, will be joining the Today show as a D.C.-based contributing correspondent.
Ms. Hager, who graduated from the University of Texas, Austin, in 2004, is currently teaching elementary school at a public school in Baltimore, Maryland.
Why is NBC News hiring Ms. Hager now?
Jim Bell, the executive producer of Today, said in the announcement that he was moved to hire Ms. Hager based on her two prior appearances on the Today show, which Mr. Bell found to be impressive.
More from the release:
Hager will be based in Washington, DC and will cover a variety of human interest and feature stories for America's number-one morning news program.


"Jenna is a terrific addition to the 'Today' team," said Bell. "In previous appearances, she displayed a natural ability to communicate and connect. She has great passion about important subjects, especially education and literacy, and we look forward to having her bring her unique perspective to 'Today.'"

Hager is a two-time New York Times bestselling author, and she serves as the Young Leadership Ambassador & Chair for UNICEF's Next Generation committee, which aims to save, protect and improve the lives of children around the world. Hager is currently a reading resource teacher at a public school in Baltimore, Maryland, where she will continue to work while at the "Today" show.
Over the past month, a feud between MSNBC's Keith Olbermann and Fox News' Bill O'Reilly has resulted in the continued battering of NBC News (and its parent company General Electric) by conservative critics, who regularly portray NBC News as the house organ of the Obama administration.
The move by NBC News to hire the daughter of one of America's most powerful conservative families to contribute to their top-rated morning show despite her lack of a traditional background in TV news will no doubt be seen by some as a veiled attempt to staunch said criticism.