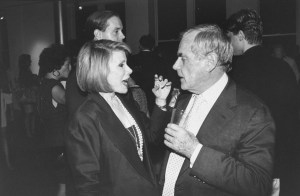 Comedienne Joan Rivers was on the phone, remembering something wonderful her friend, Dominick Dunne, who died of bladder cancer on Wednesday, Aug. 26, did for her in the late 1980s.
"My husband [producer Edgar Rosenberg] had just committed suicide and the first time I was going to come out in public was a Vanity Fair party out in California," said Ms. Rivers from Las Vegas, where she is performing at the Venetian. "I didn't want to walk in alone so I called Dominick and I said, 'Would you take me to the party and would you stay with me the whole night?' And he said, 'Absolutely, I'll be at your side.'"
Mr. Dunne stayed with Ms. Rivers the entire evening and even drove her home at the end. "About two weeks later I found the invitation and realized he was the host of the party! But he never said anything about it being an incovenience. He just did what he had to do for me and I never forgot that. He never mentioned, 'By the way, I'm the host, I can't, you dumb woman!'"
Ms. Rivers and Mr. Dunne used to know the same people and occasionally ended up at the same dinner parties at the homes of socialites Blaine Trump and Betsy Bloomingdale. She remembers them keeping the company of actors Laurence Olivier and later, at her own parties, Phyllis Newman, Charles Busch, and Cher when she was in town.
"He was a great star at a dinner party because you knew that Dominick was going to sit there and talk to you and have opinions. He always had stories to tell," recalled Ms. Rivers. "If you were seated next to Dominick at a dinner party, you knew you were lucky. I remember at Betsy Bloomingdale's when there were 24 people at a table and Dominick would start to tell a story and everyone stopped and listened. He was very smart, so if he said someone was clever, you knew that they were clever, and if he said someone was an idiot, you knew they were an idiot."
In the 90s, Mr. Dunne was often invited to Passover Seders at Ms. Rivers Fifth Avenue penthouse. This was around the time of the O. J. Simpson trial and it was the subject he liked discussing most.
"He was one of the first to come out and say, 'This is ridiculous.' I think everyone really adored him for this because he really became the voice of the public during that trial," she said. "He really read people brilliantly. He was quick and he got it, whatever that means, and he knew bullshit from the real thing."
Through his coverage of various trials, Mr. Dunne made some enemies, according to Ms. Rivers, especially during the trials of people that may have been friends of friends, like William Kennedy Smith and Lily Safra.
"I know Lily and I actually think Dominick got that one wrong, but he believes totally in what he says," said Ms. Rivers. "It's the only argument we ever had."
Mr. Dunne least enjoyed discussing the trial of his daughter's killer, which he wrote about for Vanity Fair in a 1984 piece titled "Justice: A Father's Account of the Trial of His Daughter's Killer."
"Sometimes someone would come over and say, 'I understand the guy is out now,' and he would say 'Yes! Son of a bitch is out.' And then he would change the subject." (John Sweeney, his daughter's ex-boyfriend, was found guilty only of voluntary manslaughter and a misdemeanor and served less than three years.)
Mr. Dunne's appearance was also something that stood out for Ms. Rivers. "He always looked like an unmade bed," she said. "He was always rumpled and he always looked like what he was, which was a writer. You could never call him spiffy."
Ms. Rivers ran into Mr. Dunne on the street about eight weeks ago, on East 62nd between Madison and Park. He was coming one way; she going another. They talked about his TV show on Court TV (now TruTV), but not his health, though he did not look well, Ms. Rivers said. She asked him how the show was going. He told her he got renewed for another season.
"I love every minute of it," he told her. "And they're paying me very well."
"What I adored about him was that he loved being on television," Ms. Rivers said. Someone walking by said to Mr. Dunne, "Love your program! Love you!"
He seemed to enjoy this. "He loved being stopped on the street at a time when he was fighting cancer and he was going through such bad months in his private life and walking on his way to chemo."
They talked about getting together soon sometime. Very soon. It had been so long. Perhaps in Connecticut, where they both have homes.
"I'll call you," he said.