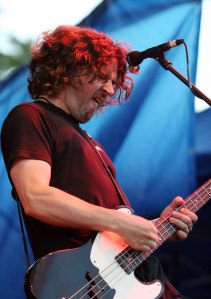 Plenty of bands get back together for that big one-off, or maybe a couple of tours, or even a new album.
But Dinosaur Jr. has pulled off something very different: They've picked up their sound just as it was when they imploded years ago, just as if time had stood still.
The band is now four years, two full-length albums and scores of live shows into its own sequel, and sounds as though no time had elapsed since the first act at all. More impressive, the music sounds as relevant today as it did in the 1990s, when the band was at the height of its popularity.
"I think time has shown that for whatever reason we are some people who were kind of blessed with having unique musical chemistry," said bassist Lou Barlow in an interview with The Observer, "I think the thing about us is that we have a very unique sound when we play together, and you can't really replicate it, obviously, if [lead singer–guitarist J. Mascis] is not there but also if I'm not there and if [drummer Emmett Murphy, a.k.a. Murph]'s not there. It just doesn't happen. There could be three kids right now playing in a basement somewhere that, for some reason, some crazy sound happens, and it only happens with those kids, and the thing is, that kind of thing is pretty rare. And when it happens, people want to hear it, people want you to revisit it."
The band plays the season finale of the Central Park Summerstage program this coming Sunday (Saviours and the Walkmen open up). The venue has been good to them: It was the show, during their first reunion tour, that solidified their confidence in their fan base, and the music press' confidence in the reconstituted Dinosaur.
"I remember a lot of people being really, really happy and smiling," Mr. Barlow recalled. "The reunion was still really fresh, there were people who hadn't seen us together again, so it was sort of like the first reunion in a way, it was just so positive. It was crazy; for how negative it had been in my last shows with the band, to see this outpouring of goodwill felt so great. People just seemed really happy."
The band started when high-school buddies Messrs. Barlow and Mascis formed Deep Wound, a fast, cheap, hard-core band. It eventually melded into Dinosaur around 1984 (the Jr. was added once the band hit it mildly big and whoever was in the original Dinosaur got a lawyer). Soon came three albums: Dinosaur (1985), You're Living All Over Me (1987) and Bug (1988).
More Dinosaur albums followed, and they had the backing of Sire Records. But Mr. Barlow was out of the band after Bug, and the band members were not shy about their personal disputes, talking about each other in interviews and in lyrics. Mr. Mascis' Dinosaur recorded four albums and scored some hits, and Mr. Barlow achieved his own kind of success with the milder, sometimes experimental Sebadoh (and Sentridoh, and Folk Implosion).
In 1997, Mr. Mascis formally retired the Dinosaur Jr. brand, and went out on his own.
Eight years later, listeners were still discovering those first three great Dinosaur albums, and in enough numbers that the record label Merge decided to reissue all three of them. Of course, a tour would be necessary to support the reissue, and so Messrs. Mascis, Barlow and Murphy found themselves, however reluctantly, on the road again.
In 2007 they released the album Beyond, an excellent outing and, to many listeners, the fourth "real" Dinosaur album. Mr. Barlow is pretty clear that this is not a band of brothers, but a union of musicians who have a good thing going.
"For the band it was just letting go of stuff, of personal issues and making the music the most important thing," Mr. Barlow told The Observer. "I started playing and it was like, 'Wow, it's here. Here's that sound again.'"
Farm, released in June on the Jagjaguwar label, features tunes both epic and sensitive.
There's still plenty of mopey defeatism lyrically, another stripe of what made the band so great, as on "Over It": "Can I make it here?/ Get over it/ I've been feeling weird/ Get over it."
"I've done studio things with a lot of experimentation, and you spend a lot of time and treat things, and throw them away," Mr. Barlow said. "With Dinosaur, it's far more of a workmanlike attitude. It's not the funnest thing, but generating new songs, that is great."
editorial@observer.com