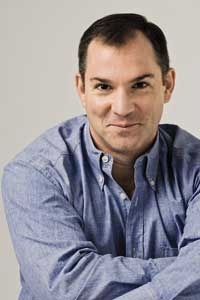 Sometime in the next week, The New York Times plans to name its newest restaurant critic.
"I hope to announce something by the end of the week," wrote executive editor Bill Keller in an email to The Observer on Tuesday, Aug. 4. "That could slip, but it's my hope."
A well-placed source said that The Times has generated a shortlist of about four people—two or three from within the Times Tower, one from outside—but that editors will select someone from inside the building to take over from Frank Bruni, who is leaving the Dining section to write features for the Sunday Magazine.
When this new critic walks into the new job, what exactly can he or she expect?
"You become this strange kind of celebrity," said William "Biff" Grimes, The Times' food critic from 1999 to 2003. "There's a mystique since the days of Craig Claiborne about occupying the critics' chair and pronouncing life-or-death judgments on restaurants. In New York, they follow it the way some people follow sports in other cities."
Especially today, when everyone from your 19-year-old intern living in Bushwick to your Upper West Side–dwelling 83-year-old grandfather seems to care an awful lot about restaurants and food. Yet, over the past few years, New York diners have been reading Mr. Bruni's columns as much to argue with them as to find out where to go. ("That $24 tomato and basil spaghetti sauce Mr. Bruni loves so much at Scarpetta? I can make that at home!") An entire blog world has popped up, too, to deconstruct Mr. Bruni's reviews, yes, but also to worship at the altars of various chefs, to promote home cooking, to rant and rave over everything from brunch to bratwurst. In this world of ubiquitous foodies, where everyone's a fan or a critic, it seems that the post of Times restaurant reviewer has lost some of its power in the eating game.
"If by 'power' you mean the ability to make or break a restaurant, that has probably been diminished by the profusion of critical voices," said Mr. Keller.
"I look at the selection of a new critic as a chance to revisit our conventions and think about what makes sense in the world we live in now. That's about as much as I want to say on that right now," he continued.
In other words: it's a critical moment for The Times' restaurant critic.
"From the time of Craig Claiborne—who basically invented the genre—there has been a waning power among each Times restaurant critic," said Ruth Reichl, The Times' restaurant critic from 1993 to 1999 and the current editor of Gourmet. "Claiborne could make or break restaurants. Mimi Sheraton wielded that power with more glee than anyone before or since and she, too, could make or break restaurants. But over the years, we've seen decreasing amounts of power. … I think people read the column with interest especially when it's a good writer, but whether people take that word as gospel? That has really changed. There are so many knowledgeable people weighing in!" she said.
Mr. Grimes elaborated. "The Internet has made power more diffuse and it certainly has changed the conversation from the pontificating critic to all kinds of people writing," he said. "It's so balkanized."
Just look at the names: Serious Eats, the Amateur Gourmet, Midtown Lunch, the Foodista, Restaurant Girl … the list of blogs goes on. Without a doubt, the Times food critic remains influential (this very paper, two years ago, wrote about the "Bruni Effect," which argued that indeed the food critic at The Times still wields considerable weight). But the food-writing landscape has changed quite dramatically from five years ago, when Mr. Bruni began his professional eating odyssey.
And even with all these food crazies out there, no one seems to be clamoring for Mr. Bruni's job.
FOOD BLOGGERS have been here for years, but in the course of Mr. Bruni's tenure, some of the media power has actually shifted their way—enough, perhaps, to make a rigorous, highbrow job like the Times restaurant critic seem less like something to strive for than to avoid. As more food fetishists have taken their lusts to the Web—pecking out loving descriptions of their meals, posting luscious photos of every dish and amuse bouche and petit four, gushing over the hottness of a certain male pastry chef (Johnny Iuzzini!)—they've captured the eyes of gluttonous readers who gorge themselves vicariously. They've also garnered the respect and even friendship of chefs and restaurateurs themselves, something that a New York Times critic is bound by law never to do. This makes for a juicy media circle-jerk, where chefs get great publicity, and, in turn, bloggers get fame and free friends, meals and drinks.
These food bloggers are actually adhering to a program that outgoing Times spokeswoman Catherine Mathis considers an imperative for the paper's most successful reporters. Take Andrew Ross Sorkin and David Carr, two high-profile Times writers: By their example, if you want to be on top, you need some combination of a weekly print column, a Web platform, appearances on television, a Twitter. Meanwhile, the Times critic stays on the down low, always. Disguises—as Ruth Reichl, Mimi Sheraton and Biff Grimes used to don—could be necessary. Television isn't part of the game plan. There is no party circuit. And being pals with the people you cover is never, ever allowed.
Ms. Sheraton, The Times' food critic from 1976 to 1984, said one time she was invited to a Christmas party at her friend's house, where Elaine Kaufman and Faith Stewart-Gordon from the Russian Tea Room would both be in attendance.
"I wouldn't go," she said. "I didn't want them to recognize me! I found it difficult to be sociable and smile and be polite and then six months later, I'm going to give them a terrible review.
"I never went to a food event, I never went to a press party," she continued.
"I WANT TO BE famous," said Josh Ozersky. "When I was born, I was anonymous, and I aim not to die in that position."