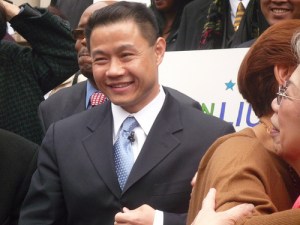 In response to The Times story about Michael Bloomberg's past use of discretionary funds, City Comptroller candidate John Liu said, "There needs to be an investigation," and that he would be "surprised and angered" if the Department of Investigations weren't already looking into the matter.
"There needs to be an investigation. An investigation is warranted because of the discrepancy in the accounts between the mayor and the council members they say made the requests. This is not something we can just take the words from the mayor's office for granted," Liu said in a brief telephone interview this morning.
"Frankly, I would be surprised and angered if the Department of Investigation is not already on top of this," he said.
D.O.I. has a policy of not commenting on ongoing probes or of even confirming whether one is under way.
Liu reiterated his call for a wider look at no-bid contracts given out by the mayor's administration.
"Going forward, the way most contracts, including discretionary funding, are allocated, is one I would take a powerful microscope to immediately," he said. "To stop there [at discretionary funds] would be short-sited and foolhardy. The entire process needs to be cleaned up."
Liu had emphasized the need for a wide probe of no-bid contracts during a July 22 debate hosted by Crain's.