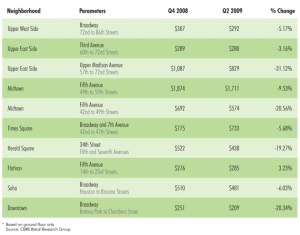 Manhattan retail rents continued to fall in the first half of 2009, according to a report from CB Richard Ellis, reflecting an "ongoing weakness" that appears to be affecting retailers toward the higher end more than shops targeted to bargain hunters.
The toniest stretch of Madison Avenue, from 57th to 72nd streets, was the hardest hit. Average retail asking rents have declined 31.12 percent since the fourth quarter of 2008: from $1,087 per square foot annually to $829.
Other battered areas included midtown (42nd to 49th streets, along Fifth Avenue), which saw asking rents fall 20.56 percent from $692 per foot to $574; Herald Square, where rents fell 19.27 percent to $438 per square foot on average from $522; and downtown Manhattan, where rents fell 20.34 percent from $251 per square foot to $209.
Other areas—including Soho, the Upper West Side, and Times Square—saw more modest single-digit declines. The Flatiron district—The Observer's own neighborhood!—was the only area where asking rents rose: from $276 a foot to $285, a 3.23 percent increase since the end of 2008.
The report, which covered retail below 96th Street, suggested that the recession may be ushering in a new guard of retailers. CBRE noted that while the pricier Circuit City and Linens-n-Things filed for bankruptcy, and Ann Taylor, Starbucks and the Gap announced store closings, the more bargain-heavy H&M, Forever 21, Duane Reade and Chipotle are still looking to expand into more locations in Manhattan.
bkavoussi@observer.com