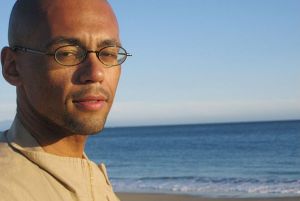 If you wanted a free drink at the Spiegel & Grau party in Williamsburg last night, the password was "library." The intimate evening, held at the Grand Ave bar Maracuja, marked the imminent publication of novelist Victor LaValle's Big Machine, the story of Ricky Rice, a former heroin addict who is summoned to Vermont by a secret society. It's Mr. LaValle's second novel, and his first with Cindy Spiegel and Julie Grau's eponymous imprint of Random House.
"I'm hopeful that if enough wild shit's in there, lots of people that like wild shit will get it," Mr. LaValle told The Observer. "That's all that I can hope for."
Earlier, about a dozen people had lined up along the bar to take advantage of the Random House tab. The crowd seemed Williamsburg-friendly, no unnecessary frock or headpiece in sight, and no clattering of high-end shoes. Which is to say, neither Ms. Spiegel nor Ms. Grau had been able to make it.
Near the entrance sat one Mya Spalter, the assistant to Mr. LaValle's editor, Chris Jackson. Sitting alongside a group of her fellow Spiegel & Grau assistants, Ms. Spalter smiled happily and said that Big Machine was the best book she'd worked on in all her time working for the imprint. Having the party at the bar was her idea: "I wanted it to be an actual party," she said, not just a bunch of people milling around in a white room drinking "wine out of paper cups."
Despite the recent turmoil at Random House, which saw the Spiegel & Grau imprint moved into the company's flagship unit from the now dissolved Doubleday division, Ms. Spalter and the other assistants gushed about their jobs with the kind of glee one might expect to hear from grammar school students talking about their ambitions as astronauts.
Around 8:15, the attendees were herded into the garden area behind Maracuja, where Mr. LaValle gave a short, off-the-cuff speech thanking those who had gathered to celebrate him and giving a hat tip to those in the crowd who remembered him from his college years. "For those of you who knew me back then … I was kind of a hot mess," he said. "Here's to coming back from being a hot mess."
He concluded his brief remarks by inviting everyone to hurry up and get some beer, since the Random House tab was going to be closed out "sooner or later."
"Sooner rather than later," his editor specified.