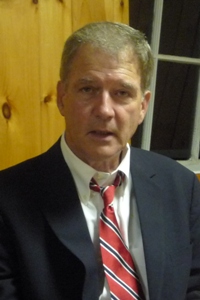 BLUE MOUNTAIN LAKE—The selection of Bill Owens as the Democratic Party's choice to replace John McHugh in Congress came after weeks of jockeying and twelve hours of interviews and discussions among the 11 county chairs. It also came after the Republicans settled on a moderate and the Conservatives staked out her right flank.
In choosing Owens, Democrats seem to be acknowledging a need to get away from the Democratic brand in order to replace McHugh, a moderate Republican. Owens, a Plattsburgh attorney, is currently an enrolled independent. His name and face are not widely known. He has never held elected office. His stances on issues are moderate, and his personality is formal.
"My beliefs and principles are essentially Democratic beliefs and principles, and what label you want to slide on me I don't think is necessarily appropriate," Owens told me late Monday in his first interview as a candidate. "I think you have to look at how someone has acted over the span of your lifetime."
Owens spoke about his experience in "job development" through the Plattsburgh Airbase Redevelopment Corporation, and how he believes a key to job creation is the luring of foreign companies to place some portion of their manufacturing operations in the U.S. through to satisfy "buy American" provisions.
Owens took a decidedly moderate line on health care restructuring, saying he does not support a public option available to anyone–the crux of the restructuring put forward by President Obama. He said some health plans in Congress not longer include the idea of a public option. This stance is gaining some traction in the Senate.
"It changes every day, the various iterations," Owens told me. "The bill that I would vote for would have a couple of elements to it. It would cover the uninsured, it would eliminate the ability to exclude for a pre-existing condition, and also that focuses on cost-reduction."
If the last special election in upstate New York was largely about the federal stimulus package, this one takes place in the shadow of the healthcare debate. While Representative Scott Murphy, a Democratic venture capitalist, squeaked to victory over Republican Assemblyman Jim Tedisco largely by wrapping himself in the cloak of a popular Obama, Owens is not looking to do the same. Obama's poll numbers, of course, have since fallen and Owens did not mention his name once.
Of the final three prospective Democratic candidates–a dozen were interviewed at the Minnowbrook Conference Center–Owens is the only one who does not support a public option.
"I'm with the president; I think there should be a public option," John Sullivan, the former mayor of Oswego, told me before Owens was selected. "I'm not a Blue Dog Democrat, let me put it that way. At least in terms of health care."
Brian McGrath, a Manhattan attorney who grew up in the district, was more cautious, saying that he supported the idea, but that "you have to look at the public option and how it has to be structured."
McGrath was visibly upset with some of the county party chairs after he was passed over in favor of Owens, and told me that "there needs to be some soul-searching among the Democratic Party because it says something that they had to look outside the Democratic Party to find someone who can represent the Democratic, progressive agenda." He said he supports Democrats, but needs to talk to Owens before he could get behind him.
One of the biggest assets McGrath brought to the table was money. He committed to spend $200,000 of his own money on his candidacy, and raised about $16,000 online in a few days.
Stuart Brody stated this weekend that he had gathered a similar amount of money, and I have heard from Democrats in Albany enjoyed support among a certain circle of state officials. But he did not make the final three, and left Blue Mountain Lake looking angrily dejected without speaking to me. Sullivan had made a push in the last week, Democratic sources said, but showed only about $30,000 in committed funding.
Owens had been the favorite of the Democratic Congressional Campaign Committee, according to several Democratic sources in Washington and the district. He first came onto their radar several weeks ago, and has had several conversations with top officials. I wasn't able to ask Owens about this, or how much money he brought to the table, before our interview was ended by a press aide. During the course of the day, as candidates spent downtime in a lakeside lodge chatting with each other and, at times, reporters, Owens politely declined my overtures until after the decision.
"While we interviewed many qualified applicants, we believe that Bill Owens best shares the values of the communities across our district, and will be an effective independent voice for our priorities," the 11 chairs said in a statement. After the selection, holding a stuffed donkey as she wobbled with sleep deprivation, Essex County Chairwoman Sue Montgomery-Corey told me that the decision was unanimous, and reached after one round of voting.
"I think in the end, this was a consensus by the chairs," she said. "I think DCCC had talked extensively with him, but they talked extensively with other candidates, too."
On the wedge issue of same-sex marriage, Owens is to the right of his Republican opponent Scozzafava. He does not support full marriage–he opposes any federal action on the "states rights issue"–telling me, "I fully support equal rights for everybody, and certainly civil unions are in that mix. For religious reasons, I have difficulty with the use of the word marriage in that process."
Scozzafava has kept a low profile since accepting her party's nomination; it's unclear what her position is on the pending health care restructuring. Both Scozzafava and Owens are pro-choice; Conservative Doug Hoffman is against same-sex marriage and is pro-life.
Since he is not an enrolled Democrat, Owens must obtain a Wilson-Pakula proclamation signed by all 11 county chairs to run on the party's line. He cannot be officially designated as their candidate until McHugh resigns from his seat. While that has not happened, the decision to replace him is expected to be on the ballot this Election Day.