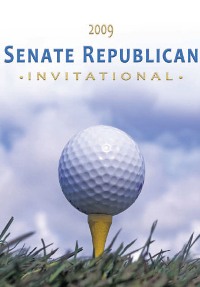 ALBANY—Maybe he just doesn't like to golf.
GOP Chairman Joe Mondello was a no-show last week at the annual Chairman's Cup golf outing in Albany, an annual fund-raising event for a party that is in a somewhat chaotic state at the moment.
He's also not at the Senate Republican Campaign Committee's tournament, at the same Voorheesville country club, today. Senate Minority Leader Dean Skelos is there, along with several other members of the chamber's conference, for the all-day event ($500 for just dinner; $5,000 for a foursome on the links and dinner).
Matt Walter, the executive director of the Republican State Committee and Mondello's spokesman, confirmed that he does play golf. He was unable to attend the Chairman's Cup because of "a longstanding family commitment that he had to attend," but dispatched Vinny Reda, the party's first vice-chairman, to represent him.
The absences come at a time when Mondello is facing challengers to his throne. Dan Isaacs told Liz he is planning a barbecue for county chairs, and Ed Cox has intensified conversations ahead of a September confab where a new chair will be selected.
Walter said that Mondello is planning on running for another term.