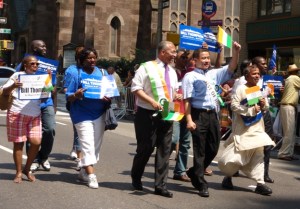 Michael Bloomberg compares his attempts to reshape the city to those of Robert Moses.
"[H]e has no clue," the Post editorial board says of how Bloomberg will pay for his $50 million plan to boost community colleges.
The Daily News has a new election page.
Cy Vance gets The New York Times endorsement.
Bill Gates helped fund the defense of mayoral control.
Bloomberg gives more to charity, by percentage, than Bill Thompson.
Bloomberg courts Dominican voters.
The Post looks at Joel Klein's pizza habits.
"Paradegoers were particularly upset that a man known as 'our Brad Pitt' could be mistaken for a terrorist."
"But to make matters worse, the trip was also to promote a new film, 'My Name is Khan,' which is about racial profiling of Muslims after the Sept. 11 attacks."
Jimmy Vacca and Jeff Klein don't like students paying more for transportation.
Aaron Kinchen looks at Christine Quinn's race.
Tom Angotti probes zoning issues and mayoral candidates.
Ross Douthat says Republicans should stop protecting seniors in the health care reform fight.
And here's Ben McGrath's piece on Bloomberg, in which the mayor gives an interview.