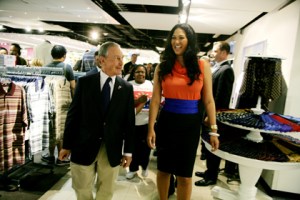 "I hope there's no hope for the health care plan this year," Rudy Giuliani said on Sean Hannity's show.
Michael Bloomberg announced federal money for ferry service and upgrades.
Bloomberg and Diana Taylor make the best-dressed list for Vanity Fair.
Bloomberg dined and chatted about Obama's health care plan, reports Page Six.
The city paid $81 million in salaries and overtime for traffic agents, who wrote $578.6 million in tickets.
Christine Quinn accepted an apology from a businessman who called her names during a Bill Thompson event.
Bill de Blasio slammed Mark Green for not debating enough.
Eric Gioia released a report on drug price disparity in the city.
Cy Vance explains the difference between his plan for a "Conviction Integrity Unit" and Leslie Crocker Snyder's "Second Look Unit."
Retesting concrete in the city will take a lot of time.
Finally, a place for local news.
A former NYPD cop defends racial profiling.
Tom Suozzi promises no cop layoffs.
Marty Markowitz introduced Arthur Sulzberger to an unreceptive crowd, reports Page Six.
The Independence Party is in court today.
The Advance looks at races on Staten Island.
There's a crowded race for Adam Bradley's Assembly seat.
Rock Hackshaw wants to hire someone.
Gatemouth writes a lengthy piece about the beer summit.
Rupert Murdoch sold the magazine that was a favorite read of Dick Cheney.
A Times reviewer loves Andrew Rice's Uganda book.
Mary Alice Miller reads a new local magazine, called F.U.N.Y.
An Op-Ed defends the Swiss banking system and says, "While tax fraud is considered a crime here, tax evasion is not."