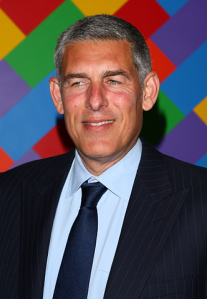 In January 2006, Amy and Lyor Cohen–a king of the mainstream hip-hop industry who's worked with Public Enemy, Run DMC, the Beastie Boys and Jay-Z (but also Elvis Costello and, sadly, Nickelback)–paid $7.75 million for a duplex co-op at 8 East 96th Street. Two months later, the Post reported that the couple was divorcing, but amicably: "We absolutely love each other," they said. It might have been a good idea to sell the apartment right away.
But the couple waited until the New York real estate market collapsed violently, selling only late last month for $6 million, a $1.75 million loss. Their buyers, according to a deed filed Wednesday in city records, are Maria Vasconcelos and Julio Pekarovic, a Google executive whose title is Vice President of Global Sales, Finance. Mr. Pekarovic is responsible for managing Google's "revenue forecasting, expense budgeting, partner deal modeling, Sarbanes-Oxley compliance, sales team quota-setting, as well as sales operational analysis and reporting for senior management." He did not respond to an email.
According to a floor plan, the duplex has five bedrooms (but one is marked as a "bedroom/library" and another as a "fitness/bedroom"); a dressing room and a separate "office/dressing room"; a family room and a separate "family foyer"; a sprawl separated into a dining room, a family room, and a living room; 17-foot-long kitchen and 12.5-foot-long pantry; and a 5-by-8-foot laundry room. Mr. Cohen, who is vice chairman at Warner Music Group and who has been linked to the outstandingly nice-nosed Tory Burch, did not immediately respond to an interview request. He is reportedly staying in the family's East 94th Street townhouse.
mabelson@observer.com