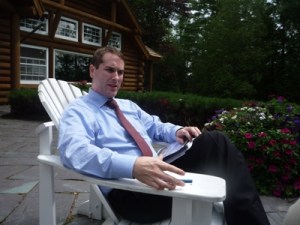 BLUE MOUNTAIN LAKE—Democrats have narrowed the field of potential candidates to replace John McHugh in Congress down to three people: Brian McGrath, John Sullivan and Bill Owens.
Sullivan, the former mayor of Oswego who serves as the deputy Medicaid inspector general, made a push in recent weeks to be considered and said he has raised around $30,000, with more funds pledged. McGrath is an attorney from New York who is a Lowville native. Owens is an attorney from Plattsburgh.
Sue Montgomery-Corey, chairwoman of the Essex County Democratic committee and the head of the selection process, went around a lakeside lodge to inform each of the 10 candidates interviewed whether they made the second round of consideration. Neither she nor Sean Hennessey would comment on the process until balloting takes place later tonight and a candidate is selected.
Everyone is eating dinner now.