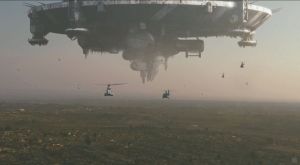 File this under: Where did the time go? With August reaching the halfway mark, there are precious few weekends left in the summer. Sigh! While we're busy bemoaning our lack of beach time this year, Hollywood is set for one final hurrah; don't expect a whole lot from here on out. Five movies hit theaters this weekend, and as usual there is something for everyone. As we do every Friday, here's a handy guide to the new releases.
District 9
What's the story: South African wunderkind Neill Blomkamp expands on his six-minute short film, "Alive in Joburg," with the help of executive producer Peter Jackson and a $30 million budget to bring us District 9, the last big geek event of the summer. Since you've probably seen the fairly excellent trailer two-dozen times by now, you know the drill—seriously, that thing even ran in front of The Ugly Truth—but for those of you who don't, just know that Mr. Blomkamp has apparently created a science fiction classic. If the effusive critical praise being heaped upon District 9 is to be believed, expect this to be your favorite movie of the summer. Dare we say: Get excited.
Who should see it: E.T.
The Time Traveler's Wife
What's the story: Based on the best selling and beloved novel by Audrey Niffenegger, The Time Traveler's Wife has been knocking around for the better part of a year and now finally hits theaters here in August. If those red flags aren't enough, the film comes from director Robert Schwentke, the man behind the immortal Flightplan (do you even remember that movie exists?). All in all, this points to trouble—something the reviews corroborate—but we'll be damned if we aren't interested in seeing a movie that stars our favorite actor of the summer (that would be Eric Bana, here as a unwitting time traveler) and one of our biggest crushes (Rachel McAdams, as the woman he loves). Swoon!
Who should see it: Sam from Quantum Leap.
The Goods: Live Hard, Sell Hard
What's the story: There might be something wrong with us, but we think The Goods looks absolutely hilarious. (Go ahead, watch the red band trailer and try not to laugh.) Everyone's favorite a-hole, Jeremy Piven, leads a cast of other recognizable supporting faces from TV—Ed Helms! Tony Hale! Craig Robinson! David Koechner!—in this Will Ferrell-ian comedy farce from, not coincidentally, Mr. Ferrell's production company. Neil Brennan, the man who helped Dave Chappelle steal $50 million from Comedy Central—he was co-executive producer of Chappelle's Show—directs what seems destined to find love on DVD and in college dorm rooms around the country.
Who should see it: Chris Kattan.
And! Disney overdubs Hayao Miyazaki's Ponyo with the voices of Matt Damon and Cate Blanchett, while Vanessa Hudgens keeps her clothes on in the Disney-approved Bandslam, co-starring—this is not a misprint—David Bowie.