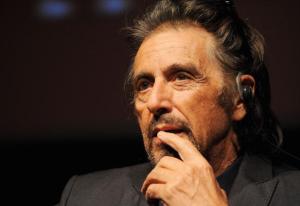 In the depths of Maspeth, Queens, sandwiched between massive power plants and factories, in a neighborhood where sidewalks are merely a suggestion, lies the Clinton Diner, an old-fashioned dive featured in numerous movies, television shows, and music videos.
The owner, Nick Diamantis, is proud of what a Hollywood hot spot his diner has become. It's currently being used as a location for HBO's You Don't Know Jack, the Barry Levinson-directed biopic of Jack Kevorkian, starring Al Pacino as Dr. Death.
On Tuesday, August 19, a release from Christina Wilkinson of the Newtown Historical Society, stating that principal photography would begin Wednesday morning at 5:30 a.m., and inviting reporters and photographers to come have a look, fell into the hands of the Transom.

It seems nobody bothered to clear the invitation with You Don't Know Jack brass.
Standing in the hot sun, members of the press from New York 1 and the Daily News were told by the movie's producers that they had "no idea" what that release was about. Waiting to hear back from the studio in Los Angeles, the group (or at least this reporter) tried to pass the time by talking to random production assistants, extras, and enjoying the free watermelon provided by the caterers.
What happened?
Mr. Diamantis said he had nothing to do with the email (we're waiting for comment from Ms. Wilkinson). The mystery only added to the excitement. "There's a lot of waiting and stop-and-go, silence," Mr. Diamantis said. "I'm actually a SAG [Screen Actor's Guild] actor also, so I'm on set a lot, too."
At one point, Mr. Pacino exited his trailer, wearing a pair of slacks, a dress shirt, and prosthetic makeup, particularly visible around the nose, and headed into the diner. (All actors, including the extras, were wearing conservative '80s clothes; the scene was supposed to be taking place in middle America, so there was nothing too posh. ) The Transom walked into the parking lot to get a peek but was shooed back by a production assistant, since we would've obstructed the shot.
Sadly, nobody directly involved with the production of You Don't Know Jack were able to comment on this publicity snafu (which is actually not such a snafu, since both the diner and the movie are getting plugs here!) due to confidentiality agreements. But the crew did distribute fruit cups and water, mercifully, to the panting press that had trekked out to Queens.