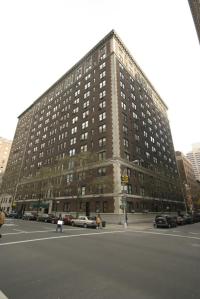 Jacky Teplitzky, who was a sergeant in the Israeli army before she became a top broker at Prudential Douglas Elliman, was on the phone with an Upper East Side seller earlier this year. "Without going to the apartment, my opening statement was, 'Do you understand you're going to lose money?'"
Manhattan brokers, who used to practically guffaw about New York's beautifully, effortlessly, naturally rising luxury real estate prices, are conceding that gargantuan real estate bought during the boom will likely sell at gargantuan, maybe multimillion-dollar, losses.
What was once a freakish nightmare—only the masses take losses!—is now accepted with a matter-of-fact shrug: "Panic at the Plaza" was the headline in October on the Web site Curbed when the asking price for a unit bought for $14.94 million was lowered to $14.5 million. This month's news that the apartment sold for $8.5 million, nearly half of what it had been bought for, didn't make much of a ripple.
Last Friday, Aug. 7, alone, three sales deeds filed in city records showed big losses for big people at pristine addresses. Biggest was Steve Eisman, whom Michael Lewis portrayed in his iconic Portfolio cover story "The End of Wall Street" as "sort of a prick in a way, but he's smart and honest and fearless." The hedge fund manager made ingenious bets against subprime lending, but Manhattan real estate proved bigger than even him: His family's sun-drenched, nine-room apartment at 1125 Park Avenue, bought in March 2008 for $6,995,000, sold this month for $5.2 million.
"After they bought it," broker Michele Kleier explained this week, "they realized it was too small. They have three children, and they wanted to be able to give each child their own bedroom—and have a library." As it's laid out now, having a library means giving up a fourth bedroom. "It would have meant doing such a huge renovation that it would have taken such a long time, and it still wouldn't have made sense."
So Ms. Kleier put the apartment on the market in June 2008 for $7.5 million. The family could have gotten close to that price at the time, she said, but they couldn't find an apartment they liked better, so they tried to stay put. "They really wanted badly to make it work."
The co-op came off in July, but then on for $5,995,000 this April, when the market had already tumbled violently. "They're very intelligent people. They're very realistic people. They knew they were going to take a loss on it. We priced it to sell quickly, and they took the first offer they got."
As these things go, Friday's second deed was for a three-bedroom apartment at 2 Columbus Avenue that apparently belonged to Dennis M. Mathisen, a Minneapolis financier tied to BankFirst, which, after years of reportedly murky subprime lending, just became 2009's 55th bank closed by regulators. A corporation in Mr. Mathisen's name bought the condo for $3.05 million but sold it for $2.8 million.
"WELL, LOOK, ANYTIME YOU buy during a peak, if you have to sell within the next couple of years, you're out of luck. That's life. And I tell people there are choices in life, and managing expectations is key," Elliman's president and CEO, Dottie Herman, said Tuesday. "I didn't make it the way it is. It is what it is, and sooner or later you have to stop being angry."