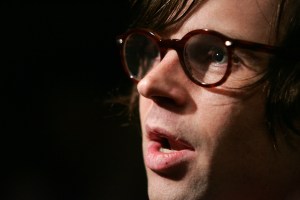 Last week, The Awl welcomed a new blogger by the name of D.R. Adams. He was introduced as "a popular recording artist" who was also a fan of the site.
"This musician expressed an interest in contributing to the site, and we're happy to announce that the result of our conversations is a regular column that should start up in the very near future," wrote Awl editor Alex Balk. This secret new blogger even recorded The Awl's theme song. (There is a hair metal version and a punk remix.)
The first edition of the column went up today. "It really feels like the end of the world," Mr. Adams begins. He talks about science magazines with articles about colonizing space and the impending doom of an steroid heading for earth. "Somebody get Bruce Willis on the phone. He can handle anything."
"Possibly I feel this way because I am getting kind of old." (He is 34.) "I am slightly narcissistic/self-obsessed so the whole fucking universe needs to be in trouble to take the heat off my 'I am now going to be old" shit,' he writes. The solution? Video games! D.R. Adams enjoys Gorf (Galactical Orbital Robot Force) and explains the rules of the game and even provides a four-point list of things to know about the game.
"Anyway, that is my column. Now go and, you know, keep surfing the web and stuff and I will totally say some more stuff later. If you made it this far I would feel sorry for you but you probably have the munchies. Bark like a dog, Ruff Ruff." This writing sounded so familiar!
In the accompanying video, we learn what we had suspected: It's songwriter, poet, and Mandy Moore-spouse Ryan Adams! The video, in which Mr. Adams shows you how to play this 1980s arcade game, is directed by D.R. Adams and Amanda Adams. (Ms. Moore's voice can be heard on the video as she is holding the camera.) There is also a white dog with a slipper in its mouth.