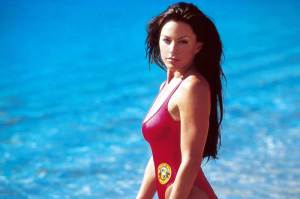 A couple of weeks ago, the Thompson Hotel on the Lower East Side hosted a cocktail party for Bonobos, a men's trousers company, on its outdoor pool deck. Most of the women were dressed up and many men were wearing jackets. But one young woman was sitting by the pool in gym shorts and a gray T-shirt. Her hair was pulled back. Her arms were crossed and she looked a little bored.
"Not much for you to do, huh?" said a security guard walking by. The girl smiled and didn't respond. The Transom asked her if she was a lifeguard; she was. "Just in case anyone gets drunk and falls in?" we asked. "I guess so," she replied.
According to the Thompson Hotel's general manager, Elizabeth Mao, a lifeguard has to be on duty whenever guests can access the pool, even if it's a non-swimming party, in order for the New York City Department of Health and Mental Hygiene to grant a pool permit.
The Hotel Gansevoort, which has a rooftop pool that is open year-round, also has lifeguards on duty even during photo shoots, when no one is swimming. The Soho House gets away with having a lifeguard until only 5 p.m., when they cover the pool and therefore make it inaccessible. The Empire Hotel, which has a rooftop pool deck, does not have a lifeguard since theirs is not a full-size pool, but a shallow plunge pool. (Though people can drown in inches of water!)
But the lifeguards who sit poolside have little to do but watch the guests sip cocktails in their loungers.
"They do just hang out, but they're very nice, so when there's no one in the pool, they help us straighten up, they make sure the guests are enjoying themselves and they just help with customer service up there," Ms. Mao said. According to Bruce Meirowitz, vice president of the Jones Beach Lifeguard Corps, the hotel pool lifeguards are not part of the 1,200-member lifeguard union because they are not employed by the state. The training is also different. New York State lifeguards must pass a Red Cross lifeguarding course and a separate test and perform a two-year apprenticeship before they are accredited. "I guess it's kind of soft and easy—you're dealing with a more educated clientele," Mr. Meirowitz said of the hotel gigs. "But I'd never want that job. I'd go stir-crazy."