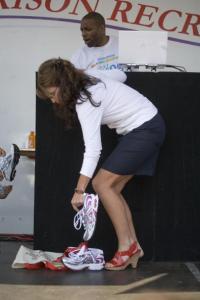 At the summer party for Couture Council of the Museum at FIT at the home of interior designer Charlotte Moss on the Upper East Side on Wednesday, August 5, Valerie Steele, the museum's director, was giddy about the various exhibits coming up. There is the Isabel Toledo exhibit that includes the dress Michelle Obama wore to the inauguration and will last through Sept. 26; a Fashion & Politics exhibit that is on view until Nov. 7; and two more exhibits, "American Beauty" and "Day & Night" (day wear and evening wear) set to open in the fall.
"We have campaign clothing and other things that are politics in a more general sense like class, race, feminism, antiwar fashion from the '60s and environmental fashion right now," Ms. Steele said of the Politics & Fashion exhibit. "And also what supporters wore, like paper dresses covered in 'Ike Ike Ike' for people in favor of Eisenhower, and a wonderful American flag dress worn in the 1890s for the Fourth of July parade, and a Catherine Malandrino American flag dress that she made after 9/11 and she gave to us."
The Transom inquired whether Sarah Palin donated anything to the show.
"She didn't offer anything, but we do have some of those funny shoes that she wore," Ms. Steele said. "I'm so sorry, I can't remember the name, but they are some kind of sexy high heels." (She meant the Naughty Monkey red peep toe pumps Ms. Palin wore when introduced as John McCain's running mate; the museum doesn't have the actual shoes Ms. Palin wore, but an identical pair.)
Nearby, an unshaven Hamish Bowles, of Vogue, was catching up with Vanity Fair's Amy Fine Collins. New York Times fashion photographer Bill Cunningham was in his usual blue jacket and khakis, snapping photos of the socialites Alexandra Lebenthal and Gillian Miniter, plus a young woman with in an asymmetrical corset top and pixie cut. The designer Yigal Azrouel was also present.
"I'm enjoying the summer but at the same time I'm working," said Mr. Azrouel. "It's only a couple of weeks before fashion week." (He will be showing in the tents this year.)
The Transom inquired whether the designer's summer was at all ruined by the tabloid coverage of his alleged relationship with Katie Lee Joel, who recently separated from husband Billy Joel.
Mr. Azrouel didn't respond and instead smiled and shrugged.