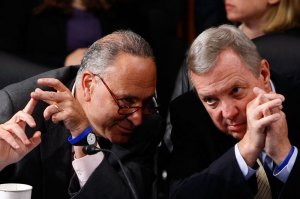 If you like a good Congressional leadership fight, then keep an eye on Jerry Tarkanian's kid.
The 47-year-old Danny Tarkanian, a man best known to Nevadans as the son of the towel-chewing basketball coach who led UNLV to the 1990 national championship (and multiple N.C.A.A. probations), has emerged as the leading candidate for next year's Republican Senate nomination, and this week a poll showed him opening a double-digit lead over Harry Reid, the Senate's Democratic leader since 2005.
This says a little about the power of the Tarkanian name in Nevada (Jerry remains a revered figure in and around Las Vegas and maintains a blog for one of the city's newspapers) and a lot about the backyard perils that face Democratic Congressional leaders who hail from swing and red states.
Mr. Reid, once an amateur prizefighter, is already pledging to raise tens of millions of dollars and may yet survive—like he did in 1998, when he eked out a 401-vote reelection victory after a campaign in which he was battered for pursuing a spot in the Senate Democratic leadership.
But the landscape for Democrats looks to be much different in 2010 than it was in 1998, when a humming economy and voter backlash at the G.O.P.'s drive to impeach Bill Clinton led to unexpected midterm election gains for Mr. Reid and his party. Even if today's Democrats do ultimately reap political benefits for their efforts to revive the economy and reform health care, the ballot box payoff is more likely to come in 2012 than in '10.
If Mr. Reid does go down next year, it would almost certainly create the first real race for the Democrats' top Senate leadership slot since 1994, when Tom Daschle beat Chris Dodd by a single vote to become minority leader.
Publicly, of course, every Democrat in the Senate will pledge support for Mr. Reid (and confidence in his re-election prospects) between now and November '10. But privately, there will be subtle (and not so subtle) jockeying among his would-be successors.
The most likely scenario would be a two-way contest between Illinois' Richard Durbin and New York's Chuck Schumer. Traditionally, Mr. Durbin would have the upper hand, since he's served as the Democrats' whip—the No. 2 leadership post—since 2005. Five Democratic whips since World War II have gone on to win the top job, including Mr. Reid, who held the job from 1999 until '05.
But Mr. Durbin, 64, might not benefit from the same next-in-line perception that so many of his predecessors did. The reason: Mr. Schumer, who maneuvered his way into a brand-new Democratic leadership post—conference vice chairman, it's called—after heading the party's Senate campaign committee in 2006.
The spot was created specially for Mr. Schumer, in part as a thank-you for helping to win the Senate back and in part to entice him to stay on as DSCC chairman for the 2008 cycle (which he did). He is officially the third-ranking Senate Democrat, but in practice he's been treated as Mr. Durbin's equal, playing a key role in crafting Senate strategy, appearing with Mr. Reid and Mr. Durbin at press events, and often representing Senate Democrats on national news shows.
Past Democratic leadership fights have broken along generational lines. When George Mitchell retired from the Senate in '94, for example, the party's old guard—led by Robert Byrd and Kentucky's Wendell Ford—rallied around James Sasser, who spent that summer and fall battling Mr. Daschle for commitments from their colleagues.
When Mr. Sasser lost his reelection bid in Tennessee, the old guard quickly turned to Mr. Dodd, who came agonizingly close to victory. (A 23-23 tie was broken by a proxy vote for Mr. Daschle from Colorado's Ben Nighthorse Campbell, who just a few months later switched parties.)
A similar dynamic prevailed in 1988, when Mr. Mitchell, who had led the party's 1986 Senate effort, won overwhelming support from newer senators, while the old guard split between Daniel Inouye and J. Bennett Johnston.
That same scenario in '10 might work to the advantage of Mr. Schumer, who as DSCC chairman developed close working relationships with the (many) Democrats who won their seats in '06 and '08.
There are other possible candidates, too. Not long ago, Mr. Dodd was considered a prime contender to replace Mr. Reid one day, but the Connecticut senator is now fighting for his political life and can't be seen pursuing a leadership spot. North Dakota's Byron Dorgan also briefly vied with Mr. Durbin for the whip's spot a few years ago, then settled for the co-chairmanship of the Democratic Policy Committee—the same perch that Mr. Daschle used to launch his leadership bid in '94. Many other names will be floated.
And assuming Mr. Durbin does run, it would open up the whip's office. Robert Menendez, the current DSCC chairman, would presumably be interested. So would a lot of other Democrats.
Then again, if Mr. Reid somehow prevails in Nevada, Mr. Durbin and Mr. Schumer will remain in their current roles. To fight, perhaps, another day.