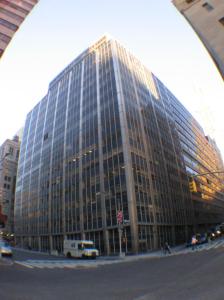 The Sapir Organization has finally let go of 100 Church Street, the beleagured 21-story commercial tower it bought in 1997. SL Green, one of Sapir's creditors, took over leasing and management of the building about a week ago, after the Sapirs withdrew a suit filed earlier this month against them and another debt-holder, Gramercy Capital, said SL Green executive vice president Steve Durels. "We've got about 650,000 square feet to lease up," he said, though SL Green has not started marketing just yet. "Right now, we're getting our arms around the details of the building… and interviewing respective agents in the brokerage community."
The building's current broker, CB Richard Ellis, is on the top of the list of candidates, Mr. Durels said.
The Sapir Organization, led by Alex Sapir, bought the 1 million-square-foot building in Lower Manhattan in 1997, and since the World Trade Center attacks it hasn't caught a break. Only two major tenants returned after September 11, and the building has remained about 50 percent vacant.
This winter it looked like the Sapirs luck might be turning when the Claremont Prepatory School and a data management company announced two new leases at 100 Church. But when Claremont was not able to close in April, they walked and the Sapirs defaulted on their loan payments to SL Green and Gramercy. In May, they filed a suit against SL Green and Gramercy for allegedly delaying their approval of Claremont's lease to prevent Sapir from qualifying for a loan extension.
Now that the suit has been dropped, SL Green will have to find tenants to occupy floors 8 through 19 and 21.