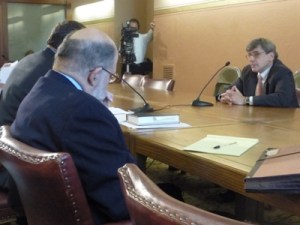 ALBANY—A unanimous, bipartisan vote? In the State Senate?
The Committee on Investigations and Government Operations advanced the nomination of Dennis Rosen to lead the State Liquor Authority to the Finance Committee. The bipartisan panel was united in concerns that the process for obtaining liquor licenses is often too slow, and the enforcement process is at times too draconian.
"The only place you can go is up, in terms of the SLA," Senator Craig Johnson, a Long Island Democrat, said. "I view the SLA as where the DMV was a few years ago."
Rosen promised to conduct a "listening tour" and said, "I think setting the kinds of enforcement priorities that we need to will be a priority."
The closest thing to excitement was when Senator Daniel Squadron, a Democrat representing the bar-rich Lower Manhattan and Brooklyn, said Rosen's position was "a very sexy, very important job."
Looks like things are on track to be vanilla today.
UPDATE: Rosen's nomination was approvedby the full body.