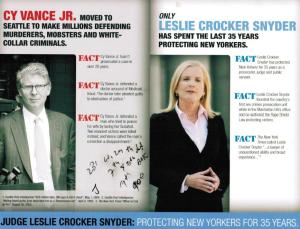 Here's a piece from Manhattan district attorney candidate Leslie Crocker Snyder, attacking Cy Vance's record.
One line of the flier says "FACT: Cy Vance defended a man who tried to poison his wife by lacing her Sudafed. Two innocent victims were killed instead, and Vance called the man's conviction a disappointment."
Here's the 1993 article that the line came from.
The flier also quotes a four-year-old New York Times editorial that praised her for her "unquestioned ability and broad experience." That editorial also said "she supports the death penalty."
This year, The Times endorsed Vance.