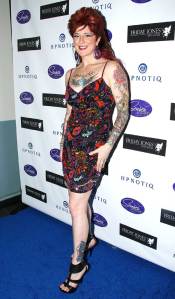 One weekend later this summer, the tattoo artist Friday Jones will trek out to the Hamptons town of Amagansett to the summer home of two Upper East Side art collectors, who are clients of the Manhattan-based interior designer Wayne Nathan, who invited her out for the trip. The plan is for Ms. Jones, who is covered in tattoos and has wild long hair dyed various shades of red, to set up temporary shop, offer consultations, and ink some of their family and friends. "I'm looking forward to being their little trick pony," she said.
It seems like an unlikely scenario: A woman with the words "True Cunt" tattooed on her knuckles mingling with Hamptons society?
But this is precisely the type of clientele the 39-year-old Ms. Jones, a Hollywood expat who's left her mark on celebrities including Angelina Jolie, Janeane Garofalo and Robbie Williams, is hoping to lure into her new tattoo shop, Friday Jones Fifth Avenue, which she is billing as the first of its kind on the thoroughfare. (Even though Fifth Avenue in the Flatiron district, where it's located, isn't exactly "Fifth Avenue.")
Uptown isn't totally new to tattoos. Scott Campbell, designer Marc Jacobs' favorite tattoo artist, who opened his latest studio inside a trendy Noho cafe earlier this year, is known to cater to that world.
But Ms. Jones is offering what she calls the "couture treatment." Each design is bespoke—detailed work starts at $250 per session—and she claims her shop is the first ever to be located inside a posh salon and spa (Senses NY). Chardonnay is on the house, and there's a doctor on call that will prescribe anesthesia or Vicodin.
Which raises the question: Aren't tattoos supposed to hurt? And shouldn't the pain also come with a little grit?
"Not everyone wants that experience," Ms. Jones said. "Or they're ready for a new one."
Socialite Lydia Hearst, Ms. Jones' first client in the new shop before it opened to the public in May, came in to have Ms. Jones touch up the skeleton key she'd gotten tattooed on her wrist one night in October 2007 at a parlor on Sunset Boulevard. Ms. Hearst's brother-in-law, the attorney Christian Simonds (husband of Gillian), has also stopped by.