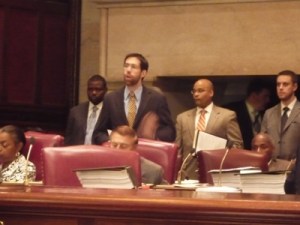 ALBANY—State Senator Shirley Huntley is making a floor speech against a bill re-authorizing mayoral control of schools, and just laid quite the smack on fellow Democrat Daniel Squadron, who is a co-sponsor of the bill and had spoken moments earlier.
 "He seems to know a lot about schools and children, and it's amazing when he's barely even an adult himself," she said of Squadron, 27, who is serving his first term in the chamber.
Squadron was just married to Elizabeth Weinstein, who works at City Hall. He obtained a written commitment from the Democratic leadership in the chamber to vote on the bill by July 17; a commitment which wasn't followed. Huntley took umbrage with a commitment about her vote.
"It's not my fault that he had a vested interest with his wife working for the mayor," Huntley said.
Squadron sat in the back row of the chamber looking sheepish. Huntley later walked by him without speaking.