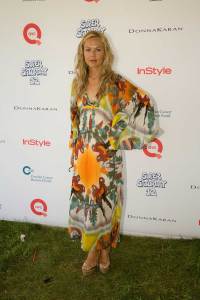 When the Transom signed up to the Zoe Report, the newsletter by stylist Rachel Zoe that began distribution last week, we received a prompt email from Ms. Zoe herself!
"Starting tomorrow, you will receive The Zoe Report, a daily email featuring my current obsessions in the ever-evolving worlds of fashion, beauty, and lifestyle," she wrote. "I am beyond excited at the opportunity to connect directly with you!"—and us with you, Rachel!—"Looking forward to sending some glamour to your inbox. XO, Rachel Zoe." Her name was signed in cursive, lest we cynically suspect the letter to be written by an assistant, or computer-generated or something.
The next morning, Tuesday, Aug. 4, the Transom received some glamour in our inboxes. It took the form of Lola Platform Pumps ($680) in leopard print with elastic detailing, by Brian Atwood. "I DIE," Ms. Zoe wrote. ("I Die" and "Bananas" have been trademarked by Ms. Zoe's lawyer.)
"With fall just around the corner, these shooties* are a must-have transitional piece to help you segue through the seasons." Ms. Zoe continued, defining the asterisk-marked word as a combination of shoe and booty. She advised that we wear them with dark skinny jeans, a T-shirt and a tuxedo jacket. In the event that we are poor, Ms. Zoe thoughtfully included a similar pair from Steve Madden for $129.95.
The next morning brought more excitement in the form of Anita Ko's pyramid bracelets and earrings, $3,600 and $315, respectively. For the less fortunate: a $33 pyramid ring at Ettika.
On her Web site, to the right of the newsletter, we noted a "Social Zoe" section: Rachel can be reached via Facebook, Twitter and MySpace, meaning more Zoe more often. To the left is a photo of the stylist in all black, wearing knee-high, platform leather boots; gold chains; a floppy, leopard-print hat; white motorcycle gloves; and red lipstick.
On Thursday, Aug. 6, Ms. Zoe switched it up and turned to beauty, recommending Skyn Iceland's Hydro Cool Firming Eye Gels, $45 for a box of six. "When my routine Venti Awake Tea (+ 2 Splendas, please) doesn't cut it, I rely on these paraben-free, fragrance-free patches of wonder to liven up." No cheap version this time.
Friday brought a "super soft destroyed tee" by Raquel Allegra, whom our guru calls an "apparel architect." The striped, shredded top's hand-dyed finish took Ms. Zoe back to her Grateful Dead days.
The stylist took Saturday off from her newsletter duties, but returned Sunday with Barton Perreira Starlet Sunglasses ($525). "If you can get the visual of me as a tween, skating at the roller rink in red satin pants, a spandex tube top and gold headband, you'll know why I'm so obsessed over these shades," she said. Quite a visual! "In fact, they're a favorite in my shamefully towering pile of do not disturb signs.*" Huh? "*Do not disturb sign = sunnies, preferably oversized, used for masking tired eyes, hiding make-up from the night before and politely avoiding conversation."
Something went terribly wrong at Ms. Zoe's offices on Monday because our newsletter didn't arrive. The Transom checked her Twitter and learned that she spent the weekend in Malibu. A representative for Ms. Zoe declined to say how many subscribers the newsletter has, but said that in the first day, additional server capacity had to be added to accommodate traffic, and that subscribers tripled in the first week. We wanted to compare to Gwyneth Paltrow's traffic in her first week of Goop, but her rep did not return calls, either.
No matter: Ms. Zoe returned on Tuesday with a red cashmere capelet from Prabal Gurung ($2,400) "It's no wonder he's already adored by red carpet veterans like Demi Moore," Ms. Zoe wrote of the designer. "I've dressed her in two of his looks. [Smiley emoticon]"