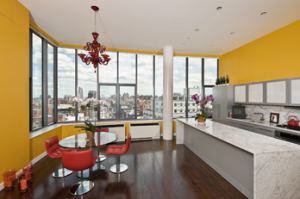 Susan Bloomberg, the mayor's ex-wife, turns out to have a very hip apartment. A One Kenmare Square penthouse filled with punchy reds, yellows and purples (plus what may or not be some crushed velvet furniture) was just listed for $11.5 million. According to city records, Ms. Bloomberg spent $10 million on the place three years ago.
The apartment's floor plan (see it here) is a thing of beauty: The two-unit, 4,472-square-foot sprawl has four bedrooms, four bathrooms, two powder rooms and two fireplaces–but there are two private terraces and a private rooftop that add another 4,031 square feet.
Considering all those nice interior colors, and considering just how exceedingly hip the downtown building is, it's a safe guess that the sprawl is at least partially used by one of Ms. Bloomberg's daughters. DJ AM, for example, bought a $2 million place at One Kenmare last year. "The downside to walls of glass is that everyone can see inside your apartment, so they do a glazing," a broker involved in that deal said back then, explaining the condo's UV-protected, soundproofed, triple-glazed windows.
Ms. Bloomberg could not be reached through her broker, Brown Harris Stevens' Dennis Mangone, who would not comment.
mabelson@observer.com