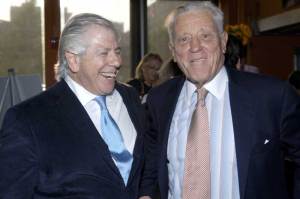 It was a sunny Saturday afternoon on Aug. 15 in East Hampton's Herrick Park as players warmed up for the 61st Annual Artists and Writers Charity Softball Game.
Actor Jean Reno prepared to throw the first pitch to start the nail-biter of a game. What kind of an artist makes the best softball player, the Transom wondered? "Human," Mr. Reno said. "Human people that understand suffering. Laugh, also. You have to understand the global human attitude, if you will permit me to say."
Jay Salpeter, co-writer of A Criminal Injustice, said he believed his craft helps him on the field. "I'm waiting for the ball to hit me, so I got to keep my mind focused as when I write," he said. Nearby, journalist Carl Bernstein, preparing to get behind the plate as catcher, chatted with Ben Bradlee.
Mr. Bernstein said he's been coming to this game, "since 1976, but I took 20 years off."
"That's a long time." Mr. Bradlee noted. He's been coming "longer than that. I've been playing it most of my life. Soft and hard."
"You invented the term 'hardball' in the newspaper business," Mr. Bernstein said.
Mr. Bradlee shrugged as if he neither knew nor cared whether that was true.
The Transom wondered if writers or artists were better players.
"Writers, for Christ's sake," Mr. Bradlee said without a beat.
"We're used to playing all the angles," Mr. Bernstein added.
On the other side of the plate, actor and Hamptons habitué Alec Baldwin prepared to hit. The Transom asked how acting helped prepare him for this sport.
"Acting doesn't help with softball," Mr. Baldwin said. "Acting is all about bullshitting people into believing something, and out here that's impossible. You either hit the ball or you don't. Either you catch the ball or you don't. Acting is an obstacle to good athletics."
He walked up to the mound and whiffed it. The announcer joked that he was the first person in the history of the game to strike out.
Left fielder–screenwriter Bill Collage's two home runs helped the writers prevail over the artists, 12-11. How did that compare to writing Accepted and the upcoming Moby Dick? "This is at the top," he said, deadpan, "'cause hitting a juiced ball like that out; what gives you more satisfaction than that?"